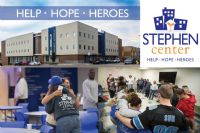 David B Latenser is the Event Chairman for this event
E-mail Me


2019 Stephen Center
SATURDAYS THIS SUMMER:
Saturday, May 25th; Saturday, June 29th, Saturday July 27, and Saturday August 24th. 3:30 pm to 6:30 pm; no open toed shoes; wear a clean hat you bring or a hair net will be provided.
STEPHEN CENTER is located at 2723 Q Street; park in EAST parking lot; Volunteers enter door at top of loading ramp. Kids and friends welcome!
Dave cell is: 402-689-4397 if questions.