Host Council: Holy Spirit Council #7264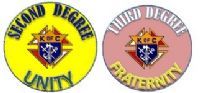 Candidates and members should arrive by no later than 9:00 AM for registration.
1st Degree at 9:15 AM - Major Degrees at 10:00 AM.


Candidates and members are expected to have their current membership card for admission to the degrees.

Appropriate dress: All candidates and members should wear business casual. No shorts or T-shirts please.

For additional information please contact the host Grand Knight or District Deputy.
SK Raymond J. Carr.
ray.carr.7264@gmail.com
817-994-2487

GK SK Jerry Austin, Jr.
jerryblueeagle@yahoo.com
817-578-5825