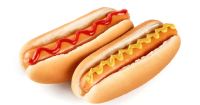 Edward S Brinkman is the Event Chairman for this event
E-mail Me


Recruit new members after all masses.
We will also be giving away FREE HOT DOGS!!! to the entire parish. The hope is to talk with the dads while their children are enjoying a nice hot dog and bottle of water. We will need 6-8 brothers at Saturday 5:00 PM Mass, 6-8 for Sunday at 7:30 AM and 10-12 at Sunday 10:00 AM Mass.