Host Council: Our Lady of Guadalupe Council #16258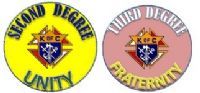 8:00 AM Mass with Admission Degree following. (Bring New member kit)
For the 2nd & 3rd Degree, Candidates and members should arrive by 9:30 AM.
Candidates and members are expected to have their current membership card for admission to the degrees.

Appropriate dress: All candidates and members should wear business casual. No shorts or T-shirts please.

For additional information please contact the host Grand Knight or District Deputy.
GK Johnny Arellano
jarellano@brucknertruck.com
682-365-9741

Gerald Hightower
jethigh@sbcglobal.net
817-691-0213