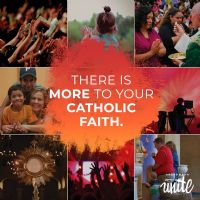 SK Rod J Hofschulte is the Event Chairman for this event
E-mail Me


Website: https://unite.archomaha.org/
You are more than what they tell you. You are more than early morning carpool sessions, performance review feedback, or the grade on your last biology assignment. You are more than the size of your jeans, the size of your bank account, or the number of likes on your last Instagram post. There is more to you, and there is more to your Catholic faith too.
Coming June 8, 2019, experience your faith as you've never seen it before - in a vibrant, joy-filled, one-day Catholic party we call ArchOmaha Unite. Thousands of Catholics from every corner of the archdiocese will rally together to celebrate hope, family, community and ALL the things that make us 'who we are' in the Archdiocese of Omaha.
Broadway-style theater performance? Unite's got that. Side-splitting comedy? We're on it. Music, food, Catholic speakers and Pentecost Mass celebrated in a stadium-sized arena with thousands of your brothers and sisters in Christ? Check, check and check.
ArchOmaha Unite is about YOU and celebrating what makes you a unique and irreplaceable part of the Catholic Church in Northeastern Nebraska.
You are far from ordinary. Be part a of something extraordinary at ArchOmaha Unite.