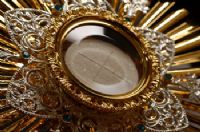 SK Brad Lauinger is the Event Chairman for this event
E-mail Me

Co-Chair: James Kalas

Co-Chair: Gregory Windbiel


This is part of our Fiath in Action programing series so please make sure you share with other members of this weekly time slot.
In the world of our Lord, what more can you do for him for which he has done so muh you then spending a most holy one hour with our lord. Such small amount of time for the love you will receive in return forever!
-We soon will have a place to share your thoughts, no names or tackers, just a place to share your love story what our lord how ever that may look to you.
Your Knights and St.Mary Parish thank you in advance to this most special use of your time and talent!
Brother Knight (Click Here) to Register your TIme with our Lord!
+ What to expand your mind? +
The Eucharist as Presence and Sacrament
The History of Eucharistic Adoration
Eucharistic Miracles of the World