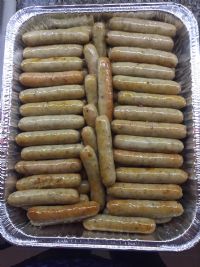 SK Peter A Stresino is the Event Chairman for this event
E-mail Me

Co-Chair: Jihad Hattar

Click HERE for more info


Need Co-Chair for Clean-up! Call Pete Stresino
Volunteers needed to: Assist Don Marquis and Bill Gulik on Saturday Morning April 27 to pick up food order from GFS and OJ from JoJos and deliver items to the Kitchen at St. Hubert.
Don Marquis and George Noonan will cook sausage on Saturday and deliver Sunday Morning
On Sunday April 28 volunteers needed starting at 6:30 AM to assist Dave Sertich in setting up the Kitchen and start cooking. Also Nick Bratt will need assistance with setting up the gym with table and chairs. Bill Gulik will need assistance with Ticket Sales
I have Bill Clark and Jay Hattar picking up the Donuts, Pancake Batter, Sausage and Bacon from the various establishments.
Please visit the following establishments and thank them for their donation and support of the Knights of Columbus and St. Hubert School:
Omega Restaurant, Checkers, Ken's Schaumburg Restaurant, Maxfields Pancake House and Restaurant, and Jojo's Diner
Questions - Pete (224) 548-0582