Host Council: St. Mary The Virgin Council #13363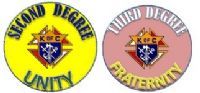 Candidates and members should arrive by 7:45 AM.
Candidates and members are expected to have their current membership card for admission to the degrees.
Appropriate dress: All candidates and members should wear business casual. No shorts or T-shirts please.
For additional information please contact the host Grand Knight Brandon Gunnip at aboiginee@gmail.com or 817-343-9414.