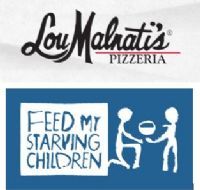 SK Mr Thomas B Van Havermaet is the Event Chairman for this event
E-mail Me

Co-Chair: Thomas Senese

Event Flyer


Enjoy delicious Lou Malnati's pizza or other favorites at either of the Schaumburg locations, or at the Palatine location (see maps below). 20% of non-alcohol proceeds will be donated to Feed My Starving Children. See the attached flyer for more details and restaurant hours. The fundraiser is active for all the hours of each location (on flyer).
Bring the flyer on paper or your phone, and mention "The Knights of Columbus fundraiser" when ordering. Assure your receipt has a line "FUNDRAISER" when you pay your bill.
We are co-sponsoring this event with Holy Ghost Council #4977 in Palatine, and St. Marcelline's Council #7694 in Schaumburg.
Contact Tom Van Havermaet (708-203-7957) for more details.
Plan to join us to present a check of the proceeds to Feed My Starving Children, and pack food on May 18. See the details in the Event Calendar.