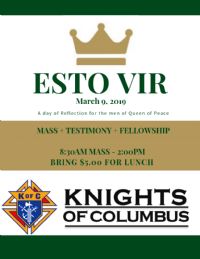 Timothy Seavey is the Event Chairman for this event
E-mail Me


This is a day of reflection on the theme "Esto Vir" led by our Worthy Chaplain and open not only to Knights but any men from age 13 from our parish who wish to attend. The phrase is Latin for "Be a Man". Program begins with 8:30 am Mass in the Welcome center followed by social time, a program event, lunch (please bring $ 5 per person to cover it) and another program event. The program will conclude around 2:00 pm.
Please ask other men, including teens, to attend and let us know how many should be expected.
This could be an excellent recruiting opportunity (volunteers needed).
Location for event Welcome Center/Ramada.