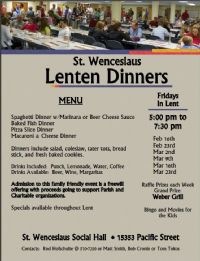 SK Mathew V Smith is the Event Chairman for this event
E-mail Me

Co-Chair: Anthony Spurlock

Co-Chair: Thomas Tokos


The Knights of Columbus Lenten Dinners have been a St. Wenceslaus parish tradition for over 25 years. We serve a full dinner of spaghetti, macaroni and cheese, baked fish, cheese pizza, tatter tots, bread sticks, coleslaw, salad, fresh baked cookies, and bread sticks. We offer a variety of drinks including lemonade, fruit punch, coffee, beer and margaritas. We serve dinners each Friday (except Good Friday) during Lent from 5 pm – 7:30 pm. We offer Bingo and movies for the children and we run raffles throughout each dinner with winners selected each week. We have a Grand Prize winner selected on the last Friday dinner.
The Free Will offerings for these dinners help the Knights support various council and Parish activities.
---
Brother Knights