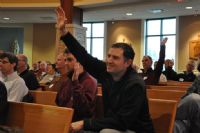 Derrick Barnes is the Event Chairman for this event
E-mail Me

Co-Chair: Noah Yates

CMC 2019


2019 Catholic Men's Conference
Allowing Jesus to Find Me
God consistently takes the initiative to seek us out. Most of the biblical figures and many of the saints initially resisted their call but eventually came around, allowing God to enter their lives, transform them, and lead them in their missions. Although God is in charge, we still must allow Him into our hearts, that is, allow Him to find us.
FEATURING STEVE ANGRISANO
Steve Angrisano is undoubtedly one of the most effective and versatile ministry leaders in the Church today. Young and old alike embrace the passionate message of faith, hope and love woven throughout Steve's music and storytelling. Always rooted in a spirit of humility and faithfulness, Steve's honest style of ministry is born from who he is: a committed witness to the life and love of Jesus Christ.
Plan to attend

Alert your Pastor and Parish Family of the Date and Time

Bring friends and family
We look forward to seeing you at the
2019 CATHOLIC MEN'S CONFERENCE
Attached PDF is information on the upcoming Catholic Men's Conference. Most of you are aware that this conference is no-longer an annual event.
It is now bi-annual. The conference has been a great success in the past, and the Knights of Columbus, the Ancient Order of Hibernians, The Knights of St. John, and the Knights of Peter Claver have been substantial contributors.
Please consider attending the 2019 Archdiocese of Louisville Catholic Men's Conference on Saturday, April 6th.
Saturday, April 6, 2019
8:15 am to 1:00 pm
Check-in and Breakfast 6:00 am - 8:00 am
St. Michael Church
3705 Stone Lakes Drive
Louisville, KY 40299
Pre-register: Adults $30/Students $15
Walk-ins at the door: Adults $40/Students $25
Register on-line at www.archlou.org/mensconference