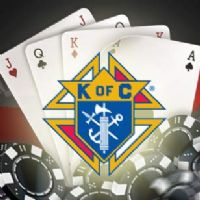 Michael Olson is the Event Chairman for this event
E-mail Me


A barbeque/poker night is scheduled for Monday evening, Sept. 17 at 6 pm at the Church Hall. All Knights and their guests are welcome to attend this general, low-cost fundraiser for the Knight of Columbus.
Please bring a favorite dish to share and enjoy a free hamburger or hotdog. After the meal, the fun begins with home-style poker playing with fellow knights and guests. Poker, 21, and cribbage will be on the agenda. There will be a $10 fee to join a table, but the beauty of it is that you can play as long as you like. The $10 per table is your only fee. (some details are still being work out.) If you gamble your winnings away, the dealer will "loan" you more funds. No repayment at all. This night will be mostly camaraderie and fun.
So, fellow Knights and Columbiettes, come to join us and liven up a normally dreary Monday evening. It will be fun.