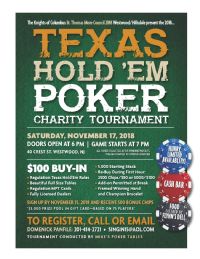 Domenick Panfile is the Event Chairman for this event
E-mail Me

Poker Tournament Flyer


The Knights of Columbus St. Thomas More Council 2188 of Westwood/Hillsdale will host a Texas Hold'em Poker Charity Tournament on Saturday, November 17, 2018.
Doors will open at 6 p.m., with games starting at 7 p.m., at the council hall at 40 Crest St., Westwood, N.J.
Buy in is $100, with re-buy during first hour. Sign up by November 15 and receive 500 bonus chips.
Prize pool is $5,000 based on 75 players. All funds collected after winning payouts will be donated to local charities.
Food and cash bar will be available.
Play will be by regulation Texas Hold'em rules with fully licensed dealers.
For more information, or to register, contact Domenick Panfile at 201-414-2721 or singin15@aol.com.