COUNCIL INFORMATION
History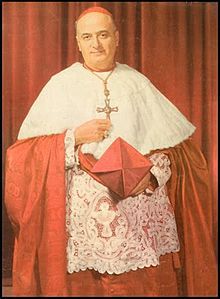 In 1959 Albert Cardinal Meyer gave a mission to Rev Morrison to establish a parish just west of O'Hare Field. That Parish would be named Queen of the Rosary in Elk Grove Village. Just six years later on August 24, 1965 the Knights of Columbus established a council at the parish. The council was given the name Albert Cardinal Meyer as we were the first council established after the Cardinals Death on April 09, 1965.
From its early beginnings the council was an active body in the parish and in the community. Some of the events that we ran in the early days were Bingo, and the corn broil to help the parish school and the athletics for the school. In the 1970's when the Illinois State Council began the Intellectual Disabilities Drive Cardinal Meyer Council went to work. Free Throw and alter server recognition were other youth programs that were run. When in 1967 the Archdiocese chose to add another parish to Elk Grove Village St. Julian Eymard became a round table to the council. Little do the parishioners know they have the Knights to thank at mass for the missalette holders on the pews. As a project for the council the men of the council volunteered their time and talent to put these on for use during mass.
During the decades that followed the council continued with its mission and recently has added several new programs including Blue Mass to honor our heroes in the community our Fire Fighters, Police and Paramedics. The 7 Churches of Holy Thursday is a pilgrimage to pray in front of the Tabernacles of seven churches. Pancake Breakfast and Fish Fry's to give the parish a social outlet with the Knights. The Culture of Life Rosary on the third Wednesday of the month to pray that life from conception to natural death is respected by society. Rosaries for confirmation students both parishes' has become a tradition as well.
As the council looks forward to celebrating 50 years of service in August of 2015 it is not just a time to look back, but a time to look forward and wonder what the next stewards of the council will do to continue the legacy of the council in the years to come.
Grand Knight Award Recipients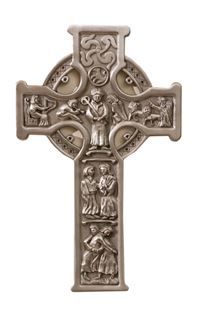 This award is given out by the Grand Knight to a Brother Knight who has made significant contributions to the council, the order, their community. It is up to each Grand Knight to decide on who are the recipients and how many are handed out. The Celtic Cross shown here is the gift that the recipients receive. This is the highest honor bestowed on members of the council and thus is only bestowed on them once. This award as started under the term of Past Grand Knight Jeffrey R. Amour. Below are past recipients of this award.
Lou Gennuso PGK
Robert Fridlund PGK
Thomas Burke
Fr. Edward Pelrine
Joseph Oliveto PGK, Charter member
Marty Chakeen
Robert Koznicki
Bernie Santowski PGK, PFN, FDD, FDM, PSW
Bill Healy
Todd Placher
John Groppi
Edwin Nolan