COUNCIL INFORMATION
A History of this Council
In 1989, Bishop John Keating established the new parish of St. Andrew the Apostle in Clifton. At the same time, he designated St. Clare of Assisi in Clifton a mission church affiliated with St. Andrew's parish. Bishop Keating assigned Monsignor John P. Hannan as the Pastor and placed him in charge of the activities and operations of both churches. The Bishop also assigned the newly ordained Father Francis J. Peffley to be Monsignor's associate.
Monsignor was a long-time member of the Knights of Columbus and staunch supporter of the Order. When Richie Head Sr., a Past Grand Knight from New York who had recently moved to Virginia, and Tom Trudeau, the local District Deputy at that time, approached Monsignor with the idea of starting a new council in 1990, Monsignor agreed; but he stipulated that one of the church buildings would have to be completed before a council could be chartered.
In 1992, shortly after St. Clare mission church was built, Richie was given the go-ahead to start forming the new council. Richie called a meeting for interested men in the parish and held the meeting at the priests' residence. So many men showed up that they overflowed up the stairs leading to the meeting room. With this strong show of interest and the full support and cooperation of the clergy, the operations to form a new council began.
On 9 September 1992, with Jerry Torrey as District Deputy, the Supreme Council chartered Council 10947, Saints Andrew and Clare with forty gentlemen listed on the original membership roster. Richie Head Sr. was elected the Charter Grand Knight. The name of the council came from a suggestion of Charter Chaplain Father Peffley and showed that members would be drawn from both St. Andrew and the mission church of St. Clare and that the works of the council would support both churches.
About our namesake, Fr. Julius J. Cilinski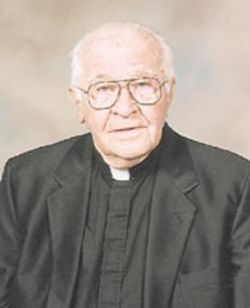 Fr. Julius was born in Alexandria, Virginia on June 19, 1918. He graduated from St. Charles College in 1939 and St. Mary's Seminary in Baltimore, Maryland, in 1945. He was ordained a priest by former Richmond Bishop, Peter Ireton on March 3, 1945. Among his numerous assignments with the Diocese of Richmond, he served as pastor of St. Paul's Catholic Church, Portsmouth, from January 1964 through the summer of 1974. While in Portsmouth, he was chaplain of the Portsmouth Fire Department, was a member of the Portsmouth Rotary Club, president of the Maryview Hospital Board of Directors and served as secretary-treasurer of the Executive Board of Maryview Hospital. He also served in our own Diocese of Arlington, with stops at Queen of Apostles Parish in Alexandria, Sacred Heart Parish in Winchester and St. Stephen the Martyr Parish in Middleburg.
He was one of three Fr. Cilinski's in the Diocese of Arlington, along with his brother and nephew. One of his sisters was a nun, two others married. The Cilinski family was and is very devout; Bishop Welsh once chose Fr. Julius' parents to receive Holy Communion from the Pope when he visited Washington DC many years ago.
There's not a person who met Fr. Julius who can honestly say they do not remember him. For wherever he went, he left a mark - something, a story of one of his assignments, a priest he worked with, a church where he was assigned. His stories always kept his audience of one or a hundred, involved and engaged. He always had a smile on his face and being around him made you thankful and put a smile on your own face. Being of Polish descent, he always said that he would put in a good word on your behalf with his cousin, the Pope.
Fr. Julius joined the Knights of Columbus in 1946 and served the Order well for over 55 years. He served as Chaplain of the St. Andrew and St. Clare Council and Friar of the Acts of the Apostles Assembly. He didn't just go to meetings: he got involved and went to as many Council and Assembly events as his schedule would allow.
Father Julius J. Cilinski died at the age of 85 on Saturday, May 8, 2004. He was remembered for his joy, humor and deep love for God during his May 13 funeral Mass at St. Andrew the Apostle Church in Clifton, Virginia. Arlington Bishop Paul S. Loverde was the celebrant. Monsignor John T. Cilinski, Father Robert Cilinski, and Father Jerome Fasano were the concelebrants. Father Fasano estimated that during Father Cilinski's 59 years in the priesthood, he would have celebrated 22,000 Masses, baptized 5,000 babies and officiated at 1,000 weddings.
The St. Andrew and Clare Council of the Knights of Columbus was renamed the Father Julius Cilinski Council, and St. Andrew the Apostle Parish renamed its playground and sports field in Father Cilinski's honor.
Father Julius J. Cilinski is interred at St. Mary's Cemetery, in Alexandria, Virginia.
Council Milestones and Accomplishments, 1992-2012
With strong leadership from the outset, the council has amassed an impressive record of service and accomplishments in its first twenty years. A testament to the hard work and success of the council is the 80+ awards earned over that time, including Star Council (6), Columbian (17), Fr. McGivney (6), Founders (9), State Deputy (15), State Deputy Circle of Honor (5), KOVAR (6), Keep Christ in Christmas (4), Virginia Knights of Columbus Charities, Inc. (2), Vocations Program (2), State Council Family Activity of the Year (1), Newsletter (1), and Others (7).
1992-1997
Took on Entertainment Book sales as the Council's first fundraiser.
First KOVAR drive netted $4,000 to help the intellectually challenged.
Began semiannual cleanup of Compton Road under the Adopt-A-Highway Program.
Acquired the Council's first banner.
By the end of June 1994, membership grew from 40 charter members to just over 100 members.
Monsignor Hannan named Council Chaplain upon the reassignment of Father Peffley.
Saints Andrew and Clare Columbian Squire Circle 4171 chartered.
Joined with Father Nudd Council to co-host a Senior Citizens' Thanksgiving Dinner.
First Degree team established and the ceremonial robes and associated equipment acquired.
Held the first annual Thanksgiving Food Drive, later named in honor of Father Charles Ryan.
Established Acts of the Apostle Assembly along with Father Nudd Council.
Sponsored the first parish Blood Drive.
Established two new fundraisers: an aluminum can recycling program and food and beer sales at the Nissan Pavilion Concert series.
1997-2002
Father Julius J. Cilinski named Council Chaplain, replacing the retired Monsignor Hannan.
Laminated prayer cards donated to St. Andrew the Apostle Parish.
Helped establish St. Chung Ha Sang Council in Chantilly.
Held the first annual Art Show and Auction fundraiser.
Approximately 200 youngsters attended the first annual children's All Saints Party.
Held the first Wives Appreciation Dinner.
Approved a change to the Pledge of Allegiance to show respect for human life at all stages of existence. The amended Pledge, recited at Council meetings and events, ended as follows:
" ... One nation under God, indivisible, with liberty and justice for all human life from conception until natural end."
Established a fund and a committee for the Memorial for the Unborn.
Held the first Founder's Day Dinner and Council Golf Outing.
The annual Thanksgiving Day Food Drive netted a new high of 115 meals for the needy.
The Council's Young Man of the Year, Connor Donahue, was selected as the State Council's Young Man of the Year.
Sponsored for the first time the Clyde-Beatty Cole Brother Circus as a fundraiser.
Held a clothing drive for the poor in Kosovo.
Collected health care items for Haiti and the Dominican Republic.
Arranged a trip for altar boys to St. Charles Borromeo Seminary.
Took on the Stained Glass Window Campaign for St Andrew the Apostle Church.
Started two new community programs: a used bike collection on behalf of Pedals for Progress and volunteers with the local Habitat for Humanity affiliate.
Helped establish St. Clare of Assisi Council in Clifton.
Took on sponsorship of the Parish Newcomers Reception to welcome new parishioners and invite the new men of the parish to join the Knights of Columbus.
Sponsored a parish Bible Study Group.
Erected and dedicated the Memorial for the Unborn at St. Andrew the Apostle Church.
Council membership reached 203, surpassing the 200 member plateau for the first time.
2002-2007
Established the "A Knight A Day" program to ensure that Council Chaplain Fr. Cilinski received proper care at a nearby assisted living facility.
Celebrated the Council's 10th Anniversary.
Fr. Cilinski received a special honor when the Virginia Master of the Fourth Degree selected him as the honoree for the Fall 2002 Fourth Degree Exemplification.
Two Council sponsored competitors (Sadie Kneuper and Kelly Hudak) won the 10 and 13 year old age groups in the State Free Throw Competition. Sadie also won the International title in her age group.
Distributed St. Michael the Archangel medals and prayer cards to 69 US service men and women serving stateside and overseas.
Las Vegas style Casino Night fundraiser held for the first time in 6 years.
Charter Grand Knight Richie Head Sr. became State Deputy of the Virginia State Council.
Annual Art Auction fundraiser nets nearly $7,000.
First Memorial Mass for deceased Council members was held.
Thanksgiving Food Drive brings in 199 meals and $1,774 in cash donations.
First Degree Team won the District 18 competition.
Chaplain Father Cilinski has audience with Pope John Paul II.
Annual KOVAR campaign nets a record $9,288 for the intellectually challenged.
Helped St. Andrew the Apostle parish celebrate its 15th anniversary.
Chaplain Father Cilinski dies. Father Joseph Clark is named Council Chaplain.
Council officially renamed Father Julius J. Cilinski Council.
Father Jerome Fasano becomes Council Chaplain, upon reassignment of Father Clark.
Father James Poumade named Council Chaplain, replacing Father Fasano.
Initiated a pre-Council meeting Rosary in the main church, open to the parish.
Provided post Hurricane Katrina support to Gulf Coast residents by holding two clothing drives in the parish. Some clothing was delivered to a K of C Council in Mobile Bay, AL, the remainder delivered to Salvation Army locally.
Held the first Art Auction fundraiser in three years, netting the Council $6,800.
Over 200 meals were collected during annual Thanksgiving Food Drive.
Initiated a "Good of the Order" ledger to record prayer requests, including those emailed by Brother Knights who can't make meetings. Ledger was placed at the foot of the altar at the start of the pre-meeting Rosary, and read under the "Good of the Order" during meetings.
Purchased a laptop computer for the Council.
Terry Weir of Holy Spirit Council made a presentation on the risks associated with same sex marriage.
Collected a record 218 meals, 193 turkeys, and $1,800 during the Thanksgiving food drive.
Donna Goldbranson of the Specially Adopted Resource Clubs of Fairfax explained how faith based organizations can promote life skill needs of people with severe physical disabilities.
2007-2012
Received a $2,300 grant from Honeywell Corporation (thanks to Brother Brian Carroll).
Thanksgiving Food Drive netted 165 complete dinners.
Celebrated the Council's 15th Anniversary at the annual Valentine's Sweetheart Dinner.
Held the first Pro-Life Baby Shower.
Participated in the dedication of the Ten Commandants and Beatitudes monument on the parish grounds.
Fr. John Kelly was appointed Council Chaplain.
Virginia "Choose Life" license plates made available thru efforts of Council Brother Knight and State Senator Ken Cuccinelli and support from Brother Knights.
Bikes for the World collected a record 110 used bikes & donations of $455 to send the bikes to people in Uganda.
Thanksgiving Food Drive netted a record 256 complete dinners and approximately $1,500 in donations.
Sponsored an Eagle Scout Project to erect outdoor Stations of the Cross on church property.
With net addition of 15 members, grew membership to 256.
Transitioned Council Newsletter to web based document.
Commissioned a portrait of Fr. Julius J. Cilinski for the Council.
Initiated an Annual Memorial Mass for Council namesake Father Julius J. Cilinski.
Annual Golf Tournament launched.
Revised Council By-Laws to conform to new Supreme Council standards.
Converted the Building Fund into a Facilities Maintenance Fund to provide more flexibility in supporting our meeting place at St. Andrew the Apostle Church.
Celebrated the Council's 20th Anniversary.