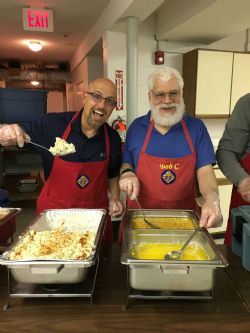 May 2019 BBQ Chicken Dinner
With a festive crowd at hand and barbecue chicken on the menu, this evening turned out to be a very successful charity affair. Netting over $530, nearly 100 folks sat down and enjoyed boneless barbecue chicken, fresh corn on the cob, Grandma Hebert's homemade potato salad and sweet baked beans. Along with so many compliments on the juicy seasoned chicken and Brother Dan's homemade potato salad, everyone left happy and looking forward to our next dinner.
Thank you to all the brothers who lended a hand in making this such a success for our charity.
If you'd like to see pictures of the event, click here.