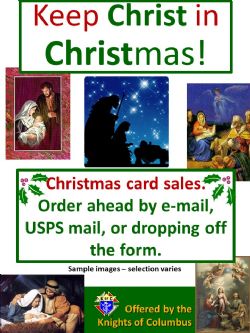 Keep Christ in Christmas with KofC Christmas Cards
Keep Christ in Christmas Brochure and Order Form
Dear Brother,
We can take orders for Christmas Cards from you and anyone you know that would like to get some of our Christmas Cards. You probably feel as we do that it is getting more difficult to keep Christ in Christmas and here is a way you can help.
The 3 page brochure offers a very wide variety of Christmas Cards and we can know also offer magnets (for your car or refrigerator) and several Christmas Tree ornaments also.
We have also attached an order form. You can fill it out and mail it to us, or scan it and e-mail it, or drop it off at church. If you mail it or bring it to church please include or bring a check or money order made out to: "KofC #8240" for the total. Don't worry about sales tax, we will pay that for you.
But we need your order by October 31st to make sure you get your cards by 1 December (or sooner).
We are trying to make it easier for our Council members, their families, friends, and neighbors to Keep Christ in Christmas, please let us know if this does that.
Also, you can feel good about there is no profit made in these cards. What you pay over the cost of a box cards, or for magnets or ornaments, goes 100% into our charitable efforts.
Thank you for your kindly consideration and we hope you will avail yourself of this opportunity.
God bless you!
Sincerely
Jason Gusman
Grand Knight, Council 8240
Mail forms to:
Prince of Peace Catholic Church
ATTN: KofC 8240
621 Cedar Road
Chesapeake VA 23322