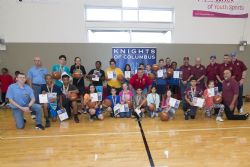 2017 Knights of Columbus Free Throw Championship
Good Shepherd Council #6358 in Schertz, TX joined forces with Our Lady of Perpetual Help Council 6856 in Selma, TX to host a Knights of Columbus Free Throw Competition at the Schertz YMCA on Jan. 14. Boys and girls, ages 9-14, took part in the local event and the top 12 finishers from each council moved on to the regional championship.

Winners for Good Shepherd Council #6358 were:

Girls: 9 – Crystal Lingo, 10 – Evangeline Bowser, 11 – Madison Russell, 12 – Serenity Castillo, 13 No Contestant, 14 No Contestant
Boys: 9 – Ledger Perette, 10 – Evan Herrera, 11 – Benjamin Trevino, 12 – De'Rick Hendry, 13 – Treveon Wilson, 14 – Ian Lingo
Ian Lingo won the 14yo boy category at the council level, and made 22 of 25 free throws to win the regional level competition. He then competed in the State Competition on 4 March here in San, Antonio, TX.
Thank you to the Schertz Family YMCA for allowing us to use their facilities for this great event.