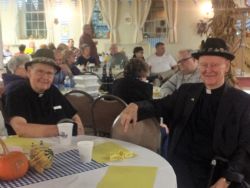 Remembering Father Edward Storck
Father Edward Storck was our past Chaplain, a member of Our Order for 57 years, and a member of Our Council died on June 12, 2017. He was a fixture at Chaplain's Night and attended almost every Christopher Council function. We honored Father Storck at the recent St. Patrick's Party. While I did not know Father Storck well, my limited interactions confirmed what everyone said about him -- he was a kind, thoughtful, caring and generous Priest.
Despite being 91 years old, Father Storck did not seem to get mentally old; rather he acted as a young man by appearing in a St. Patrick's shirt at the recent St. Pat's Party and wearing his German hat to Oktoberfest (see picture). I have heard many anecdotes about Father Storck over the past few days and everyone is somewhat similar in that Father Storck would do anything to help Our Council and his Brother Knights. We have lost a true friend but hopefully we will all be reunited when we receive our eternal reward.
"Tempest Fugit, Memento Mori"