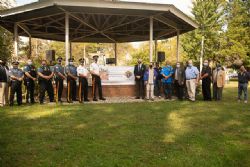 Prayer Service for Law Enforcement Officers
On October 4th the Knights of Columbus Council 2544 held a prayer service for Law Enforcement Officers. The event was held in Washington Memorial Park in Dunellen. Attendees included members of the Dunellen Police Department and other Dunellen first responders, elected officials including Mayor Jason...members of the Knights of Columbus, representatives of The American Legion and VFW, scouts, and many families and grateful citizens.
The event was not a demonstration or rally but an opportunity to show gratitude and respect to law enforcement officers. Mayor Jason Cilento led everyone in the Pledge of Allegiance, Knight of Columbus member Jeff Marren led one decade of the Holy Rosary, and Knight Harry Buttito led the crowd in reciting the Prayer to St. Michael the Archangel, Patron Saint of Police Officers. Grand Knight Jim Whelan reminded everyone that the words "under God" were not part of the Pledge of Allegiance until 1954 when President Eisenhower and Congress approved the addition after being petitioned by the Knights of Columbus to do so.