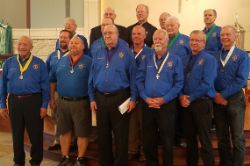 2019 - 2020 Fraternal Year Officers
Officers for the 2019 - 2020 Fraternal year officially took office at an installation ceremony on July 10th 2019. The installation concluded a day of Adoration of the Blessed Sacrament at which an image of the Icon "Our Lady Help of Persecuted Christians" was displayed, Rosary with Litany of Persecuted Christians, and Mass for Persecuted Christians.
Officers for the new Fraternal Year are: Henry Lozinski, Grand Knight; Brian Tonner, Deputy Grand Knight; Fr. Robert Jones, Chaplin; Chancellor, Joe Batorson; Erick Pettyjohn, Financial Secretary; Jim Rudnicki, Treasurer; Tom Streit, Advocate; Doug d'Autremont, Recorder; Brian Corrigan, Warden; Ryan Gensler, Inside Guard; John Creighton, Inside Guard; Richard Beidron, Outside Guard; Jim Janisch, Outside Guard; Three Year Trustee, Tim Stola; Two Year Trustee, Terry McCully; and One Year Trustee, Don Galloy.