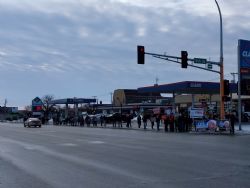 2018 Bemidji Marcg for Life
The KC's once again stepped up to support the unborn. Approximately 100 people marched in defense of life.
The march took place at noon on January 20, 2018. The day's events began with a gathering at the Beltrami County Courthouse, followed by a march down Beltrami Avenue finishing at St. Philip's Catholic Church. Nearly one-hundred people braved the cold to attend the March for Life drawing attention to the atrocities of abortion and the pain it causes mothers and fathers. A short program followed the march followed by a soup and sandwich luncheon served by the Knights of Columbus. Lakeland Public Television carried the story. https://lptv.org/bemidji-march-for-life-brings-awareness-to-options-outside-of-abortion/
Abortion Facts: (Minnesota Dept. of Health)
43% of abortions in Minnesota are paid for with taxpayer funds.
9,953 abortions were performed in 2016, an average of more than 27 every single day.
56% of abortions in Minnesota were performed by Planned Parenthood.
94 Minnesota women having abortions in 2016, had six or more previous abortions.
Reasons given for abortions:

29% of the women reported "Economic reasons."
70% of the women reported "Does not want children at this time."
Less than 1% of the women reported that the pregnancy was a result of rape or incest.