News & Announcements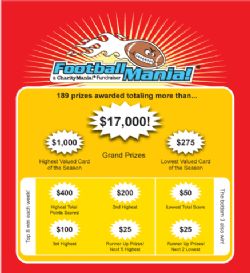 Football Mania!
Click here for a complete description of the Football Mania fundraiser
A popular fundraiser for many in our parish, Football Mania is very important for our Council. While some of our fundraisers are targeted for specific causes, such as the upcoming Intellectual Disabilities Tootsie Roll drive, Football Mania supports many of the smaller events, causes, and services weaved into the fabric of our community. Football Mania enables our Council to support activities like:
Family events, such as Family night out and parade expenses;

Youth events, such as the Soccer Challenge, Essay Contest, Spelling Bee, and poster contests;

Pro-Life activities, such as donations to the pro-life fund and rosary funds;

Community activities, such as Adopt-a-Highway, support for Hesed House, Wheel/Chair Foundation donation, and DuPage Pads;

St. Raphael parish, such as school donation and scholarship; and

Clergy support, such as Ordination donations, Vocations/Adopt-a-Seminarian, Permanent Deacons
Each ticket has music downloads – so each buyer receives value independent of the sweepstakes. In addition to music and supporting the Knights, each ticket gives the buyer 3 more teams (2 if their card already includes the Bears) to root for every weekend.
Briefly, each ticket costs $20, of which $14 stays with our Council. When a ticket is sold, the buyer keeps the large top portion, and the seller keeps the ticket stub with the buyer's contact information. The seller then submits the stub and total receipts ($20/ticket) to me directly, via a Council officer, or in a location to be confirmed later.
Key info:
Please submit a check for the total amount of tickets you sold instead of cash. Checks should be made out to "St. Raphael Knights of Columbus, Council 14171."

The sweepstakes part of the fundraiser begins Thursday, September 6th this year, and includes 17 weekends.

The deadline to activate tickets for the entire 17- week season is 10:59 Naperville time on Saturday, September 8th.

However, tickets can still be activated through Week 8 (October 29th) of the fundraiser. Game cards are not eligible to win prize money in any week prior to their activation, but will be eligible to win the grand prize at the end of the season. All week's scores will be included for the Grand Prize calculations.