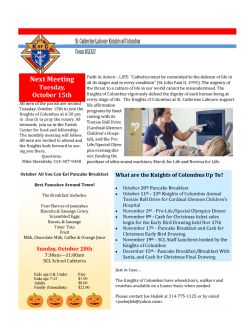 Knights Corner's St. Catherine Laboure Bulletin October 13, 2019 submitted by Bill Schelinski
CLICK HERE TO OPEN PDF FILE For Knights Corner October 13, 2019 submitted by Bill Schelinski
When you see Knights in yellow vests you should smile. When these Knights are holding their bright cans and collecting donations around town, they are helping to recognize the dignity of every person. For every donation, each donor is offered a piece of candy by the Knight present, most commonly a Tootsie Roll. Because of these little gifts of appreciation, the "Campaign for People with Intellectual Disabilities" is frequently referred to as the "Tootsie Roll Drive." It is a popular and successful fundraiser conducted by Knights of Columbus councils.
Knights of Columbus Council 12323 St. Catherine Laboure has collected over $32,562 since 2014, (doesn't include the October 2019 drive in progress). So the next time you see a Knight in a yellow vest asking for donations outside a grocery store, and you receive a Tootsie Roll, remember it's more than a "Tootsie Roll Drive." It's a chance to provide people with
intellectual and physical disabilities more resources to live a happy life. Learn more about the Tootsie Roll drives across the country at https://www.kofc.org/en/news/releases/small-thanks-for-big-cause.html.