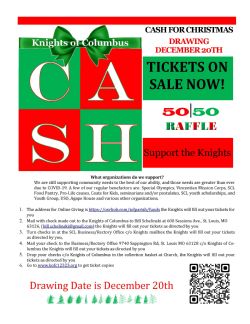 CASH FOR CHRISTMAS KNIGHTS OF COLUMBUS DRAWING DECEMBER 20, 2020 submitted by Bill Schelinski
Please support the SCL Knights of Columbus with their annual Cash For Christmas Raffle. This year it is a 50/50 Raffle. The more that enter the bigger the prize!
What organizations do we support?
We are still supporting community needs to the best of our ability, and those needs are greater than ever due to COVID-19. A few of our regular benefactors are: Special Olympics, Vincentian Mission Corps, SCL Food Pantry, Pro-Life causes, Coats for Kids, seminarians and/or postulates, SCL youth scholarships, and Youth Group, USO, Agape House and various other organizations.
The address for Online Giving is https://osvhub.com/sclparish/funds the Knights will fill out your tickets for you
Mail with check made out to the Knights of Columbus to Bill Schelinski at 600 Sessions Ave., St. Louis, MO 63126, (bill.schelinski@gmail.com) the Knights will fill out your tickets as directed by you
Turn checks in at the SCL Business/Rectory Office c/o Knights mailbox the Knights will fill out your tickets as directed by you,
Mail your check to the Business/Rectory Office 9740 Sappington Rd, St. Louis MO 63128 c/o Knights of Columbus the Knights will fill out your tickets as directed by you
Drop your checks c/o Knights of Columbus in the collection basket at Church, the Knights will fill out your tickets as directed by you
Go to www.kofc12323.org to get ticket copies
Drawing Date is December 20th