News & Announcements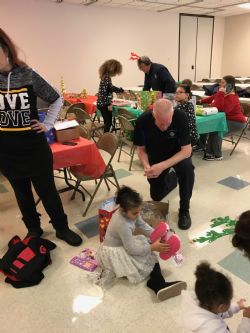 Angel Tree Party hosted by the Vincent T. Lombardi Council
This program provides presents to children who have an incarcerated parent. The parent gives permission for participation and the child's caregiver is contacted to arrange attendance. This contact is coordinated by Sr. Marla. The Angel Tree gifts were organized by the Giving Tree Committee and tags are chosen as part of that joint program effort. Mary Jo Ross leads this effort. Parishioners took tags, purchased presents and returned the unwrapped gifts to the Parish. The committee wrapped the presents and made them ready for distribution.
The Knights of Columbus organized the party event for gift distribution. This year the event was led by Bill Hubbard and his wife Stephanie. They purchased the party supplies, including food and provided the tree, decorations and organized the materials. The cost is covered by the Council and a summary of those expenses is provided below. We provided pizza, soft drinks, fruit, cookies, decorations, games and prizes and a treat bag for each of the children.
This year our Council and Parish asked to increase the number of participants to 30 with each one bringing a caregiver along. 25 participants were contacted and 19 registered. Only 11 children (plus their caregivers) came to the party. One additional child attended but had not registered. We rearranged to accommodate their presence so as not to disappoint the child. The turnout was a disappointment but not unexpected. Participants who did not attend were contacted by the Parish to pick up their gifts at the Parish office.
Council volunteers included Bill and Stephanie Hubbard, Dave and Nancy Mather, Paul and Sherri Oswald, Mark and Bobbie Pratt, Don Babler, Mike Hodulik and Jenny, John Glysch, Larry Wilson, Bill Sands, and Sister Marla.
2019 - 2020 Fraternal Calender of Events
Our Events Calendar has been updated based on information from the officers planning meeting. Attached is a summary of this years events (Subject to change) as of the planning session that can be used for a quick review and updating your calendars to save the dates.
If changes do occur, the Events Calendar will be updated and notices will be included in the newsletter.