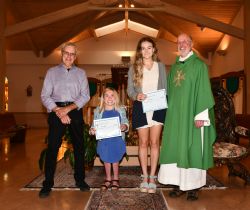 Knights of Columbus Scholarship Fund
The St. Barbara Knights are proud to announce this years scholarship winners. Karen Sullivan and Katrina Wagner each received a $1000 scholarship. Both young ladies will be pursuing degrees in Business. Karen is going to school at the University of Santa Clara and Katrina is be attending University of Gonzaga. Thanks to contributions from our parishioners, we are able to continue our Scholarship Program.
Students are asked to write an essay from a question that our scholarship committee decides on. Questions are all faith based. The scholarship committee evaluates the essays as well as other criteria and selects our winners. The scholarship committee is made up of three St. Barbara Knights and two St. Barbara parishioners.
If you are interested in applying for a scholarship, you or your guardians must be registered members of St. Barbara parish. Applications are usually posted around the beginning of February.
We hold one pancake breakfast a year to help with our scholarship fund, donations can also be made on line on our Home page.