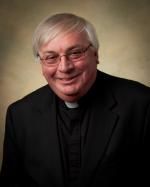 Reverend Donald F. Gauthier, Jr. Called to His Rest
On Saturday, September 21, 2019, the Reverend Donald F. Gauthier, Jr. was called to his rest and to the glory of the Resurrection promised by the Lord. He was 71 years old.

Father Gauthier was born on September 12, 1948 in Berlin, New Hampshire, the son of Donald and Katherine Gauthier, Sr. He attended St. Patrick Grammar School and Berlin High School. He graduated from Saint Philip Neri College and completed ecclesiastical studies at Wadhams Hall Seminary in Ogdensburg, New York and Saint John's Seminary, Brighton, Massachusetts. Father Gauthier was ordained a priest on September 27, 1975 by the Most Reverend Odore J. Gendron, DD, at Saint John the Evangelist Church in Concord.

After Ordination, Father Gauthier served as associate pastor of the following parishes: Immaculate Conception Parish, Portsmouth; Saint Anne Parish, Manchester; Saint Joseph Parish, Nashua and Saint Catherine Parish, Manchester. Father Gauthier served as pastor of Saint Joseph Parish, Belmont, Saint Lawrence Parish, Goffstown and Our Lady of the Mountains Parish, North Conway until his retirement in June 2016.

Father Gauthier also served as Chaplain to the Algonquin District, Boy Scouts of America; Knights of Columbus, Portsmouth Council; Knights of Columbus, Nashua Council; Knights of Columbus, Manchester Marian Council; and the Goffstown Police Department. He was on the Council of Priests for the Laconia Deanery, served as an Auditor for the Diocesan Marriage Tribunal and was on the Diocesan Building and Real Estate Board.