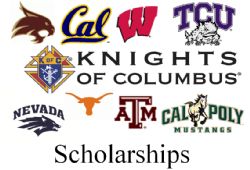 DOWNLOAD 2022 APPLICATION - Click or Press Here

Attention College Scholarship Applicants!
Final Submission Date: Sunday , April 24, 2022
Who's eligible? High school seniors and/or students enrolled in undergraduate studies, or vocational / technical post-secondary education for which progress can be graded. You must be sponsored by an active Knight in Council 10836 member. Post-graduate students and/or previous awardees who have received Knights of Columbus scholarship totaling $4000 or higher are not eligible.
What are the qualifications? Primarily, the qualifications are Catholic service, scholastic achievement, extracurricular activities, and/or need. Please see the Application Form for additional information.
When? Applications must be returned by the end of business on Sunday, April 24, 2022. No exceptions.
Where?

Preferred method is to EMAIL

the completed application to MIKE MAY Alternative method is to personally drop it by the SJN Parish offices. Be sure to let office personnel know it is a K of C scholarship application!
How many Awarded and how much money? Up to three (3), Four Year Scholarships will be awarded to three (3) different individuals. Four Year scholarships are paid annually at $1000 with a maximum of $4000 paid over four (4) consecutive, qualifying years. Other scholarship amounts may be awarded at the discretion of the scholarship committee.
Applications will be evaluated on demonstrated accomplishments. Higher consideration is given to applicants actively involved in various Church and community organizations. All students are eligible; however, direct relatives of members of the Knights of Columbus Council 10836 shall be considered for awards first providing they meet the base level of accomplishments and services described in the application.
Questions? Email MIKE MAY