March Business Meeting
We will have our Council's monthly business meeting on Thursday of this week (March 4) beginning at 7:30 PM in the conference room in the basement of Our Lady of Angels Church. Early arrivers can join us in praying the rosary beginning at 7:00 PM.
---
Blood Drive at JP the Great
We will be hosting a blood drive at Saint John Paul the Great Catholic High School on March 19th. Currently there are 26 donation slots still open. Please consider donating if you are able. Please click here to register for a time slot: Registration
Site: Saint John Paul the Great Catholic High School
Address: 17700 Dominican Drive, Dumfries, VA, 22026 Room Name: Gym
Date: Fri Mar 19, 2021
Time: 10:00 AM - 03:00 PM
Blood Program Leader Name: Sister Ann Dominic Mahowald Blood Program Leader Phone Number: 703-445-0331.
---
Minutes and Treasurer's Reports
In keeping with the new guidelines from National, the monthly minutes and council bank statements are now posted to the Members Only section of this website. Members are encouraged to review these documents each month prior to the Business meeting. The information in these documents will not be read at the meeting. Corrections and questions will be taken at the meeting prior to voting for approval of the documents.
---
Congratulations to the
Family of the Month
January 2021
The Chaves Family
The Chaves family is an outstanding example of a Catholic family in Our Lady of Angels parish. Carlos and Melissa are always volunteering in various capacities as needed on behalf of the parish.
Carlos assists with communion every Sunday with hand sanitizer, regularly reads at Mass, and is an active member of Defenders of the Faith. Additionally, Carlos instituted the annual celebration of Our Lady of Angels at OLA several years ago, including a Mass, procession, and festivities afterward.
Melissa works in the parish rectory, including performing significant volunteer work there.
Both Carlos and Melissa are always ready to cheerfully volunteer their time and effort on a variety of other projects that benefit the parish also.
---
Nominations for
Family of the Month
The Council is seeking nominations for Family of the Month (FOM) February. I would certainly guess there is no shortage of deserving families. You may nominate families not associated with the Knights of Columbus as long as they display devotion to one or more of the following: promoting Christian family values, supporting community or school activities, participation as a family in the sacramental life of their parish. Please pass your nomination to Grand Knight Chuck Wheeler.
---
JOHN PAUL I COUNCIL #7165
Presents a Live Simulcast Virtual Art Auction
WHO: Art lovers and supporters of the Knights of Columbus anywhere in the Continental US
WHAT: Our first ever live simulcast virtual art auction fundraiser
WHEN:
Early Registration is open NOW!
–First 100 people to register are entered to win a $100 VISA gift card!
–Registration, Preview, Pre-bid, and Max bid ' Thurs, Mar 4, 2021 @ 10:00 AM EST
–Live Auction ' Sat Mar 6, 2021 @ 8:00 pm EST
WHERE: The comfort and safety of your home
HOW:
– Visit bid.marlinart.com NOW!
– Registration is required to preview artwork and receive your bid number
– Opening bid with full description of each piece will be displayed
– You will be able to pre-bid and/or set your maximum bid.
– REGISTER EARLY! Preview ends at Showtime on Saturday.
– All artwork shipped anywhere within the Continental US free of charge directly to your home!
SHARE, SHARE, SHARE...

All family, friends, near and far, are welcome! This is a nationwide charity event.
For more information contact: artauction@kofc7165.org
or call Keith (703) 899-6033
---
Meeting Minutes
The Minutes from January and February are available for review in the Members section of this site. Please review prior to the March Business Meeting.
---
Living a Life of Significance: A State-Wide Fraternal Benefit Night on Thursday, March 9th at 7 pm
All Brother Knights, friends, and family are invited to this free webinar given live by Catholic author and speaker, Joseph Jordan. He is a Brother Knight, a best-selling author, Legatus member, past Senior VP at MetLife, Founder of the Insured Retirement Institute, is a Top 50 Irish Americans on Wall Street, in the Fordham Football Hall of Fame, and an avid rugby player. He will speak based on his award-winning book, Living a Life of Significance, and focus on the four pillars he has identified: belonging, purpose, storytelling, and transcendence. He will also speak about building intergenerational wealth, from a Catholic perspective. This zoom webinar is free thanks to sponsorship by the Knights of Columbus: Abbate Agency. Pre-registration is available for the first 1,000 people at webinarCH.abbatekofc.com
---
Parish Raffle Sale Support
We have a special request for support from our pastor, Father Alvaro. OLA parishioners have been participating for the past 20+ years in the All Saints Car Raffle. This year, it is back at the parish and ALL proceeds will go to OLA.
10 tickets will be mailed to every registered parishioner family this week. Starting next weekend (Feb 13-14) we will be selling extra tickets after Masses in the narthex almost every weekend until April 17th...nine weekends total.
Father Alvaro and the parish need your help! Father has been very supportive of our Council, and we haven't had a lot of opportunity as a Council to really serve the parish for quite a while with a project of this scale!
We would like to have one volunteer to be responsible for overseeing tickets sales for a full weekend. That volunteer (your wife can help) will have other volunteers covering Masses. Can you volunteer to oversee one weekend or volunteer to sell tickets before and after a Mass? Also it would be nice to have Spanish speakers for Spanish Masses.
For more information and to sign up for this worthy project please click on this link: Raffle Sales.
---
Bishop's Lenten Appeal
Father Álvaro has asked that we make a concerted push to encourage sacrificial participation in the annual Bishop's Lenten Appeal (BLA), and that we do so prior to Ash Wednesday if at all possible. In the current COVID environment there is greater need than ever in the Arlington Diocese for the assistance provided by the BLA. Many of you have probably already received Bishop Burbidge's 2021 BLA appeal letter which contains information about how to donate. If you do not have the letter, be alert for the BLA information that will be provided during upcoming weekend Masses at Our Lady of Angels Church.
---
Visiting Priest in Need
Council 5750 Worthy Past Grand Knight Komla Kudiabor has requested assistance from Council brothers on behalf of Fr. Joseph Ocran, currently serving at St. Lawrence Parish in Springfield. Fr. Ocran is from Ghana. He has one year to complete his course in Clinical Psychology. The Archdiocese in Accra, Ghana, is having challenges supporting him further due to the continuing impacts of COVID. The total amount needed is $12,230 for his last year to ensure that his previous three years of study do not go to waste.
Checks should be made payable to: St. Lawrence Catholic Church
6222 Franconia Rd.
Springfield, VA 22310
In the memo line: Fr Joseph Education Fund
For electronic transfers, please use PayPal.
Phone number is 703 447 6192 in the name of Deacon Mike Waters Include a note: Fr Joseph Education Fund.
---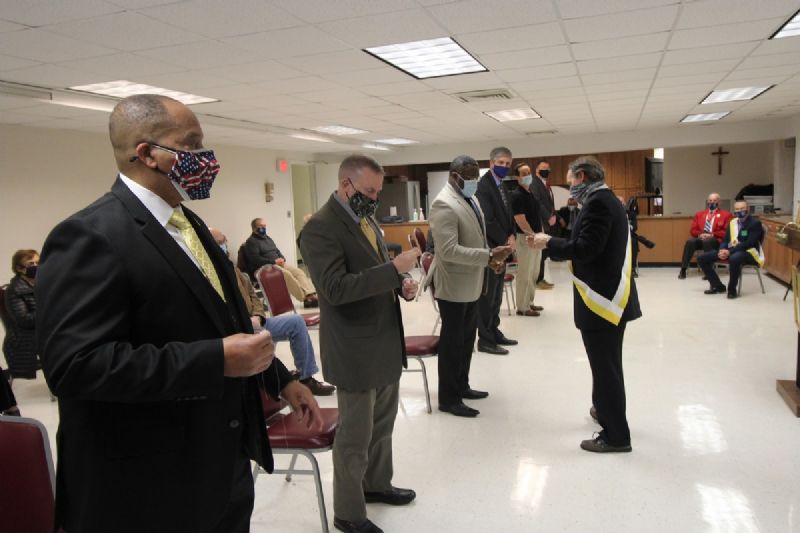 Exemplification
Congratulations to the new members and those completing Exemplification for their higher degree! It was a great ceremony attended by the members, candidates, family and friends. Photo's from the event can be viewed here: Exemplification Photos
---
Endowment Fund Report
In accordance with the Council Investment Policy, the current investment portfolio report is available in the members documents section. It can be accessed via this link: Please Click here for the Document
---
| | |
| --- | --- |
| | New 5-minute video on Father McGivney |
Have you seen Father Michael McGivney, An American Blessed? The documentary is now available in a short, 5-mintue version, that is easy to share with family, friends and brother Knights who are interested in the story of our founder. WATCH
---
JOIN THE KNIGHTS
If you are a Catholic man, in good standing with the Church, the Knights of Columbus needs you in our ranks. Council 5750 serves the parish of Our Lady of Angels. Join us as a new member and help us help our parish in charitable action. If you are already engaged in doing great work at our parish, do it now as a Knight! Join two-million other members worldwide. We do not do bingo anymore; instead, we are focused on projects at OLA and are open to new ideas that new members can bring in. You can now join on-line. Join now and become a brother Knight by going to kofc.org/joinus. Please email us at: KofC5750@gmail.com that you have joined or if you need more information. Vivat Jesus!
---
ÚNETE A LOS CABALLEROS
Si eres varón Católico, en buena postura con la iglesia, los Caballeros de Colón te necesitamos en nuestros rangos. El Consejo 5750 sirve la parroquia de Nuestra Señora de los Ángeles. Únete a nosotros como nuevo miembro y ayúdanos a ayudar a nuestra parroquia en la acción caritativa. ¡Si ya estás comprometido en hacer gran trabajo en nuestra parroquia, hazlo como Caballero! Únete a los otros dos millones de miembros mundialmente. Ya no hacemos más bingo; en cambio, nos enfocamos en proyectos en OLA y estamos abiertos a nuevas ideas que los nuevos miembros puedan traer. Ahora puede unirse en línea. Por favor únete ahora y conviértete en un hermano Caballero. Envíenos un correo electrónico a: KofC5750@gmail.com si se ha unido o si necesita más información Vivat Jesus!
---
Past Grand Knights
Photo Gallery
The Past Grand Knights Photo Gallery is now online! Please click the following link to go directly there: Past Grand Knight Gallery. You may also see by selecting the "Photo & Video Galleries" menu item to the left.
---