Special Business Meeting
The Grand Knight has called a Special Business Meeting via Zoom beginning at 7:30 PM on Thursday (April 8) for the following agenda items:
(1) consider and pay bills
(2) vote on whether or not the Council should accept three candidates who have applied for membership in the Knights of Columbus.
An exemplification ceremony is scheduled for Thursday, April 15, in the basement of Our Lady of Angels Church to bring the approved candidates into the Knights as members of our Council. Please watch your email/this site for additional information.
The Zoom access information for the Special Business Meeting has been sent via email and is available in the Members Only Section of this website.
---
Elections for 2020/2021 Officers - Nominations are Now Open
The following Slate of Nominees are proposed for the 2021/2022 Council #5750 officers. The electronic nomination option is now available on this website in the Members Section or at this link: Nominations. Remember, the slate is a suggested list of Nominees. Any 3rd degree Knight is eligible for any Officer position in addition to the slots that no Nominee is currently listed.
A short overview of the various officer positions is now available in "Announcements" in the "Members Only" section. A link to a more detailed guide is provided in that document. Please click here to see the Description of Officers Duties: Officers
The Nominees for 2021/2022 are:
Grand Knight: Richie Mediano
Deputy Grand Knight: Cesar Anchiraico
Chancellor: OPEN
Recorder: Joseph E. Ortman
Treasurer: Daniel Y. Andu
Advocate: Steven M. Bow
Warden: OPEN
Inside Guard: OPEN
Outside Guard: David J. Alexander
3rd Year Trustee: Charles Wheeler
2nd Year Trustee: OPEN
---
A Helping Hand
An elderly Parishioner need help with maintenance and repairs to the family home. Several members of the Council dedicated their time and efforts to get that accomplished.
A big "Thank You!" goes out to all those who were able to help.
---
---
Recognition and Farewell
to
Past Grand Knight Steve Moore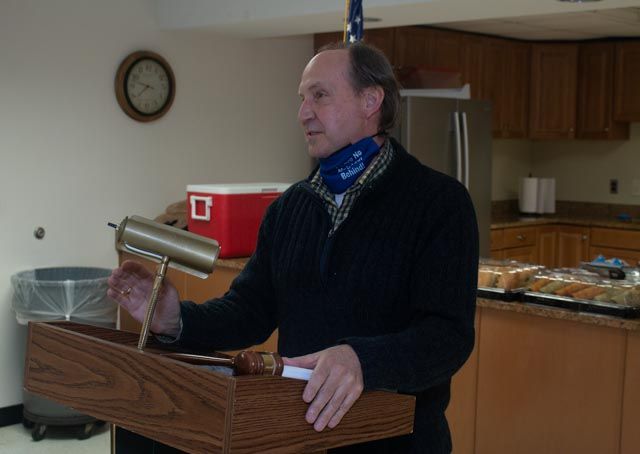 On Thursday, March the 18th, Council 5750 recognized Past Grand Knight Steve Moore for the many contributions he has made to this Council. In addition to being being inducted as a Past Past Grand Knight, PGK Moore was given a fond farewell as he prepares to leave the area. PPGK Moore reflected on his many years with the Council, in addition to being Grand Knight twice, he was also the long time Treasurer for the Council. He has been an active member and contributed to the success of this Council in many ways.
Council 5750 wishes PPGK Moore the best of luck in his future endeavors and thanks him for all he has done for the Council and the Parish.
Please Click here for Pictures of the Evening: PPGK Moore
---
---
Minutes and Treasurer's Reports
In keeping with the new guidelines from National, the monthly minutes and council bank statements are now posted to the Members Only section of this website. Members are encouraged to review these documents each month prior to the Business meeting. The information in these documents will not be read at the meeting. Corrections and questions will be taken at the meeting prior to voting for approval of the documents.
---
Congratulations to the
Family of the Month
February 2021
The Rojas Family
Fernando Rojas, a PGK, has been the membership director for the council this year and is largely responsible for this council being on the verge of doubling our membership goal. He has spent many hours ensuring that the council's implementation of the new exemplification ceremony have been stellar.
His wife, Claudia, volunteers one day a week in the parish office, doing whatever is necessary, including using her Spanish speaking skills to talk to Spanish speakers on the phones as well as walk-ins.
Fernando and Claudia are both Extraordinary Ministers, and assist with hand sanitizer when not actually distributing the Eucharist. Recently, they took home several boxes of the St. Joseph prayer cards to fold so that they were ready last weekend for all the Masses. They also attended the recent Parish Pilgrimage to Our Lady of Lourdes Grotto in Emmitsburg, MD.
Fernando and Claudia are always looking for various ways to assist OLA parish. They truly model Catholic family values on a continuing basis.
---
Nominations for
Family of the Month
The Council is seeking nominations for Family of the Month (FOM). I would certainly guess there is no shortage of deserving families. You may nominate families not associated with the Knights of Columbus as long as they display devotion to one or more of the following: promoting Christian family values, supporting community or school activities, participation as a family in the sacramental life of their parish. Please pass your nomination to Grand Knight Chuck Wheeler. Nominations can also be done via this website in the "Members Only" section, please click here: Nominations
---
---
Meeting Minutes
The Minutes from January and February are available for review in the Members section of this site. Please review prior to the March Business Meeting.
---
Parish Raffle Sale Support
We have a special request for support from our pastor, Father Alvaro. OLA parishioners have been participating for the past 20+ years in the All Saints Car Raffle. This year, it is back at the parish and ALL proceeds will go to OLA.
10 tickets will be mailed to every registered parishioner family this week. Starting next weekend (Feb 13-14) we will be selling extra tickets after Masses in the narthex almost every weekend until April 17th...nine weekends total.
Father Alvaro and the parish need your help! Father has been very supportive of our Council, and we haven't had a lot of opportunity as a Council to really serve the parish for quite a while with a project of this scale!
We would like to have one volunteer to be responsible for overseeing tickets sales for a full weekend. That volunteer (your wife can help) will have other volunteers covering Masses. Can you volunteer to oversee one weekend or volunteer to sell tickets before and after a Mass? Also it would be nice to have Spanish speakers for Spanish Masses.
For more information and to sign up for this worthy project please click on this link: Raffle Sales.
---
Bishop's Lenten Appeal
Father Álvaro has asked that we make a concerted push to encourage sacrificial participation in the annual Bishop's Lenten Appeal (BLA), and that we do so prior to Ash Wednesday if at all possible. In the current COVID environment there is greater need than ever in the Arlington Diocese for the assistance provided by the BLA. Many of you have probably already received Bishop Burbidge's 2021 BLA appeal letter which contains information about how to donate. If you do not have the letter, be alert for the BLA information that will be provided during upcoming weekend Masses at Our Lady of Angels Church.
---
Visiting Priest in Need
Council 5750 Worthy Past Grand Knight Komla Kudiabor has requested assistance from Council brothers on behalf of Fr. Joseph Ocran, currently serving at St. Lawrence Parish in Springfield. Fr. Ocran is from Ghana. He has one year to complete his course in Clinical Psychology. The Archdiocese in Accra, Ghana, is having challenges supporting him further due to the continuing impacts of COVID. The total amount needed is $12,230 for his last year to ensure that his previous three years of study do not go to waste.
Checks should be made payable to: St. Lawrence Catholic Church
6222 Franconia Rd.
Springfield, VA 22310
In the memo line: Fr Joseph Education Fund
For electronic transfers, please use PayPal.
Phone number is 703 447 6192 in the name of Deacon Mike Waters Include a note: Fr Joseph Education Fund.
---
Endowment Fund Report
In accordance with the Council Investment Policy, the current investment portfolio report is available in the members documents section. It can be accessed via this link: Please Click here for the Document
---
JOIN THE KNIGHTS
If you are a Catholic man, in good standing with the Church, the Knights of Columbus needs you in our ranks. Council 5750 serves the parish of Our Lady of Angels. Join us as a new member and help us help our parish in charitable action. If you are already engaged in doing great work at our parish, do it now as a Knight! Join two-million other members worldwide. We do not do bingo anymore; instead, we are focused on projects at OLA and are open to new ideas that new members can bring in. You can now join on-line. Join now and become a brother Knight by going to kofc.org/joinus. Please email us at: KofC5750@gmail.com that you have joined or if you need more information. Vivat Jesus!
---
ÚNETE A LOS CABALLEROS
Si eres varón Católico, en buena postura con la iglesia, los Caballeros de Colón te necesitamos en nuestros rangos. El Consejo 5750 sirve la parroquia de Nuestra Señora de los Ángeles. Únete a nosotros como nuevo miembro y ayúdanos a ayudar a nuestra parroquia en la acción caritativa. ¡Si ya estás comprometido en hacer gran trabajo en nuestra parroquia, hazlo como Caballero! Únete a los otros dos millones de miembros mundialmente. Ya no hacemos más bingo; en cambio, nos enfocamos en proyectos en OLA y estamos abiertos a nuevas ideas que los nuevos miembros puedan traer. Ahora puede unirse en línea. Por favor únete ahora y conviértete en un hermano Caballero. Envíenos un correo electrónico a: KofC5750@gmail.com si se ha unido o si necesita más información Vivat Jesus!
---