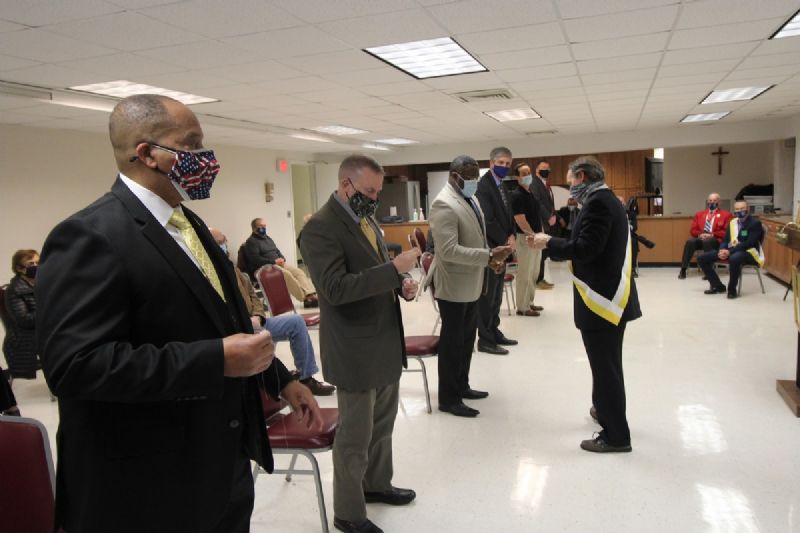 Exemplification
Congratulations to the new members and those completing Exemplification for their higher degree! It was a great ceremony attended by the members, candidates, family and friends. Photo's from the event can be viewed here: Exemplification Photos
---
2021
The following information is from the March For Life website:
The annual rally will take place virtually and we are asking all participants to stay home and to join the March virtually. We will invite a small group of pro-life leaders from across the country to march in Washington, DC this year. These leaders will represent pro-life Americans everywhere who, each in their own unique ways, work to make abortion unthinkable and build a culture where every human life is valued and protected.
The March For Life will take place on Friday, January 29, 2021.
Please visit the March for Life website for more information or to sign up for the virtual event: March for Life
---
Endowment Fund Report
In accordance with the Council Investment Policy, the current investment portfolio report is available in the members documents section. It can be accessed via this link: Please Click here for the Document
---
| | |
| --- | --- |
| | New 5-minute video on Father McGivney |
Have you seen Father Michael McGivney, An American Blessed? The documentary is now available in a short, 5-mintue version, that is easy to share with family, friends and brother Knights who are interested in the story of our founder. WATCH
---
Congratulations to the
Family of the Month
December 2020
The Andu Family
Daniel and Naomi Andu, as well as their three daughters, are dedicated Our Lady of Angels parishioners.
Daniel has served as the Council Treasurer for several years. He was a member of the team that sanitized the pews between Masses to assist the parish in complying with Virginia Coronavirus prevention guidelines. Daniel has also been the Council's coordinator with the Aquinas school for the Keep Christ in Christmas poster program for a number of years.
Naomi is the fourth grade assistant and assists with the STEM program at Aquinas Regional School at OLA.

Both Naomi and her daughters have also volunteered at the OLA St. Vincent de Paul Society.
Council 5750 is very pleased to acknowledge the outstanding contributions of the Andu family to OLA parish as our Family of the Month for December.
---
JOIN THE KNIGHTS
If you are a Catholic man, in good standing with the Church, the Knights of Columbus needs you in our ranks. Council 5750 serves the parish of Our Lady of Angels. Join us as a new member and help us help our parish in charitable action. If you are already engaged in doing great work at our parish, do it now as a Knight! Join two-million other members worldwide. We do not do bingo anymore; instead, we are focused on projects at OLA and are open to new ideas that new members can bring in. You can now join on-line. Join now and become a brother Knight by going to kofc.org/joinus. Please email us at: KofC5750@gmail.com that you have joined or if you need more information. Vivat Jesus!
---
ÚNETE A LOS CABALLEROS
Si eres varón Católico, en buena postura con la iglesia, los Caballeros de Colón te necesitamos en nuestros rangos. El Consejo 5750 sirve la parroquia de Nuestra Señora de los Ángeles. Únete a nosotros como nuevo miembro y ayúdanos a ayudar a nuestra parroquia en la acción caritativa. ¡Si ya estás comprometido en hacer gran trabajo en nuestra parroquia, hazlo como Caballero! Únete a los otros dos millones de miembros mundialmente. Ya no hacemos más bingo; en cambio, nos enfocamos en proyectos en OLA y estamos abiertos a nuevas ideas que los nuevos miembros puedan traer. Ahora puede unirse en línea. Por favor únete ahora y conviértete en un hermano Caballero. Envíenos un correo electrónico a: KofC5750@gmail.com si se ha unido o si necesita más información Vivat Jesus!
---
Past Grand Knights
Photo Gallery
The Past Grand Knights Photo Gallery is now online! Please click the following link to go directly there: Past Grand Knight Gallery. You may also see by selecting the "Photo & Video Galleries" menu item to the left.
---