Please keep our dear Brother Charlie Brown, who passed away September 8, 2020, in your prayers. Keep Charlie's family in your prayers during this difficult time. Charlie you will be missed. Thanks for your years of service to our Council and St. Brigid Parish!
Please join us every last Sunday of the month at 8:00am as a member of our Council will lead the recitation of the Rosary prior to the 8:30am Mass. This will be live streamed on both parish Facebook pages and our YouTube channel. If you can't pray with us live tune in later on our YouTube channel for the recorded version at any time of the day.
(Please click on news and announcements to see our Advertisement)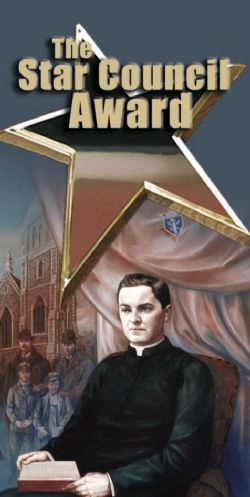 August 12, 2020 - Congratulations to ALL Brother Knights for receiving the 2019-2020 Star Council Award. This is the top honor for local Councils. Congratulations to Adam Waldner, Our Grand Knight, for leading the charge. Below is the letter we received notifying our Council of this distinguished award. (Click on News and Announcements to see the news release)
Worthy Brother Waldner,
Congratulations!
Council 16179 has earned the 2019-2020 Star Council Award, recognizing excellence in program activity, membership growth (200.00%% of quota), insurance promotion, fraternal reporting and Safe Environment compliance.
During this challenging year, your council adapted and continued to stand in the breach; serving your brothers, families, parishes and communities. The Supreme Council is pleased to recognize these achievements and acknowledge the hard work of you and your brother knights.
Your council's award plaque will be shipped to your District Deputy for presentation. Due to the COVID-19 pandemic, production and delivery of awards is currently estimated at 10-12 weeks. Additionally, to help celebrate this accomplishment and promote your council, attached please find a bulletin announcement and press release for your use. These are great tools that will highlight your good works in the community.
There is still much to be done and we need your council to lead the way. Keep the momentum going and start planning now for another successful fraternal year! The new 2020-2021 Star Council requirements, which can be found at KofC.Org/Star, will help guide your council to excellence in the year to come.
Thank you and Vivat Jesus!
Fraternally,
Daniel Isabel
Manager, Fraternal Operations
Knights of Columbus
1 Columbus Plaza
New Haven, Connecticut 06510
Our Council is on Twitter. Check us out @KC16179 for daily / spiritual quotes and more. We are Tweeting "All Things Catholic"
"Tweet others as you would like to be Tweeted"
.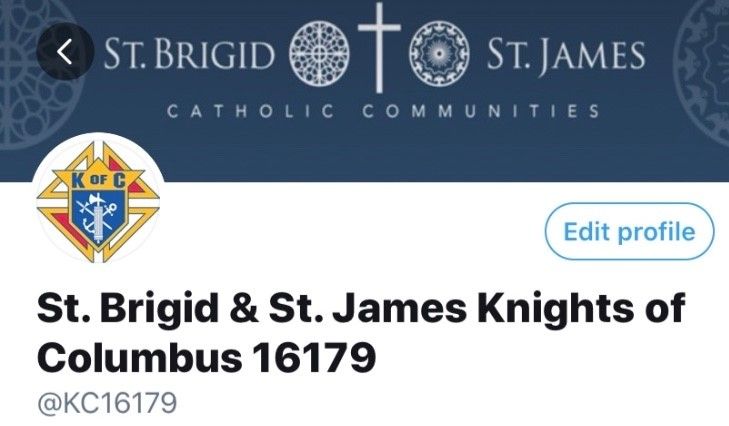 Men of Our Parishes and Visitors to this site — Have you Considered Being a Knight?

Our Knights of Columbus Council #16179 serves the Catholic Community of the Saints Brigid and James parishes located in the Original Highlands community in Louisville. Charity has always been the first principle of the Knights of Columbus. We are Catholic men of faith and men of charitable action. Talk to a Knight about joining today or see contact info below.
If interested in joining our Council contact Adam Waldner Adam@AdamMyAgent.com - 502.330.3347 or Scott Nimon scottnimon@bellsouth.net - 502.905.5616
Courier Journal: How our Church Choir Director is coping without voices in pandemic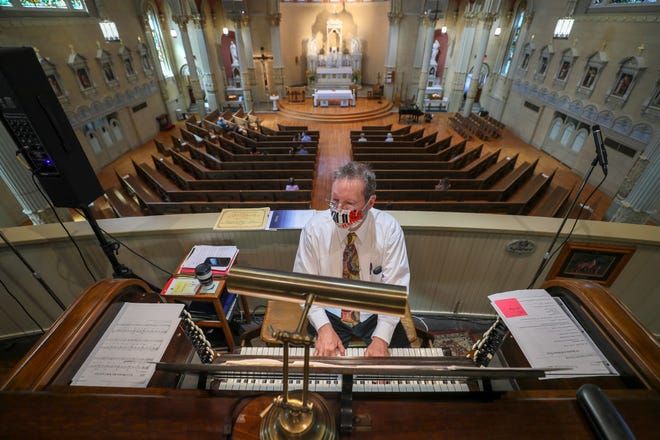 (click link below to see this article from the Courier Journal published July 16, 2020)
https://www.courier-journal.com/story/money/louisville-city-living/2020/07/16/louisville-church-music-director-reinvents-choir-during-pandemic/3250769001/
Catholic Education Foundation showcases St. James School expaining the school's unique mission!
(click the link below from WAVE TV or click on video gallery on left side of the Home Page to view)
https://www.ceflou.org/catholic-education-foundation-and-st-james-school-on-listens-live/
Congratulations to our new Officers Tony Marconi, 1 Year Trustee and Gregg Fowler, Outside Guard! Vivat Jesus!
NEW!
Check out the Video Gallery Link to the left to see the updated video of our beautiful St. Brigid Church using a drone and high definition cameras.
St. Brigid & St. James Parish on YouTube!
St. James is back to Live streaming Mass each morning Monday thru Friday and on Sunday Mornings. If you miss the Live streaming you can catch the replay on YouTube or Daily Mass buttons located on the Parish App. Click Links of Interest on the left side of the home page and it will take you directly there.
NEW!!
Saint Brigid and Saint James "A Circle of Prayer"
Please click on News and Announcements on the left side of the home page for more information on this.
Also NEW to our Parishes!!
Evangelus
A New Way of Communicating
Please click on News and Announcements on the left side of the home page for more information on this.
This is a brief history about our visiting Priest, Fr. Expedito (sEE LINK BELOW)
Click the icons at the top of the page for direct access to the Twitter and Facebook Pages
Don't forget to download the parish app for all things St. Brigid and St. James. This includes daily announcements, rosary with Archbishop Kurtz, a new YouTube channel, weekly homilies from Fr. Gary, music from our choir, live streaming of daily Mass and much, much more!