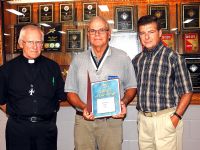 2018 - 2019

Brother Murray Harris

I am very pleased to present the Knight of the Year Award for 2018-2019 to Brother Murray Harris.
Brother Murray became a Knight in 2015, completed three degrees in very short order, and will be exemplified as a member of the Dean Wagner Assembly on June 22 becoming a member of the Fourth Degree.
In the summer of 2018 when standing committees were being set up, Brother Murray agreed to take on the responsibility of Chairman of our Parish Breakfast.
This responsibility was in addition to taking over the lead role in the Parish Youth Dance after helping at this event for the previous three years.
Brother Murray also provided support roles when called upon to assist where needed at our Parish Family Day event, Fish Fries, Shrove Tuesday Pancake Supper and was on hand for the Basketball Free Throw event which returned this year.
In order to stay closer to the Council's regular activities, he rearranged his long standing personal commitments on Monday nights to be present at our Council meetings – a reflection of his commitment to our Order and the love he has for our Council and our Parish.
When approached to stand for an Officers position in March, he agreed and was elected to the position of Chancellor further establishing his significant contribution and personal growth within our Council.
In three short years, Brother Murray has evolved and developed into an active member of our Council and taking a significant leadership role now serving as an Executive Officer.
I know everyone will join me in congratulating Brother Murray on being named as Knight of the Year!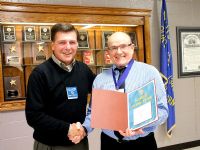 2017 - 2018

SK Br. Marc J Morneau

Knight of the Year Award 2017/18

The recipient of the "Knight of the Year Award" is a brother Knight who most certainly exemplifies the principals of our order, Charity, Service and Fraternity.

Lecturer and PGK, SK Marc Morneau, became a Knight in Burlington Ontario in 2010 and served in just about every capacity at Executive level including 2 terms as a Grand Knight of Council 5073 in Burlington. This is significant because council 5073 serves 4 Parishes in the GTA.
So now you understand where Brother Marc gained all that experience we so often take advantage of.
Upon his retirement Brother Marc moved back to Windsor and in 2015 he transferred to our Council. In 2016 he served as our Deputy Grand Knight, and this past year accepted the appointment of Lecturer, replacing Brother Jerry Zima when he retired the position.

Often Marc would say to me "I don't know a lot of the members of our council", so to fix that he rolled up his sleeves and got right involved. He was a member of our Retention Committee, assists often at Youth Dances, initiated socials after every meeting, he took the initiative to learn the UKNIGHT website program and launching it in August last year became our webmaster.

Marc has been a mentor to me, several other executive and many of our general membership that I am aware of. Marc is no stranger to the BBQ and is not opposed to getting his hands a little dirty either. At GH he helped to install shelving in the garage and last year he cut the grass all summer.
Marc, you can no longer say that you don't know too many of these guys and for sure they all know you.

Help me congratulate Brother Marc