August 2021

Mark Crabbe


---
July 2021

Larry Huff


---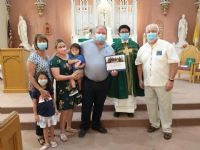 June 2021

Paul Dunlap


---
May 2021

Martin Greene


---
April 2021

Charley Francis


---
March 2021

Jack Hemming, Jr.


---
February 2021

Rev. Mr. Gregory Tavarez


---
January 2021

James Smith


---
December 2020

Paul Burchell


---
November 2020

Randy Esterley Richard Winter


---
October 2020

Frank Carver


---
September 2020

Francis Huber


---
August 2020

George Mudd


---
July 2020

Rufino Madridejos


---
June 2020

Giovannie Nunez


---
January 2020

Christopher Harvey

For stepping in and running the Basketball free-throw for the Council and for his work as Membership Director.
---
December 2019

John Owen

For all his efforts with Council projects; Octoberfest, Parish Picnic, etc.
---
November 2019

George Mudd

For his work with the Parish Picnic with communications and aiding with transportation od disabled church members.
---
July 2019

Francis Charley


---
June 2019

James Pontius

For stepping up to Head the Columbus Hope program.
---
August 2018

Michael Barry

Brother SK Michael W Barry is a PGK and our immediate past Financial Secretary. He helped the new FS have a smooth transition and in recognition for his long tenure as FS and current member of the council that has already volunteered his time and efforts in his idea of a coat drive.
---
July 2018

Thomas Miller

Brother Tom Miller has been named the Knight of the Month for the month of July. Brother Tom has jumped in with both feet during this fraternal year. He has stepped up and become an officer, volunteered to chair our Columbus Hope program, and has also given of his time at the Council Hall when needed recently due to our air conditioner needing repair.
---
April 2018

Pontius James

Brother Jim Pontius transferred into our council just last year and has gotten involved from the start by talking with parishioners about the Knights of Columbus and worked on recruiting new members into the Order. Jim has gladly accepted without hesitation the position of Membership Director for our council.
---
March 2018

Paul Burchell Francis Simmons


---
January 2018

Frank Costas

Brother Frank Costas is a very active member of the church community particularly in his role as youth minister. He took on the role within our council of Youth Director and planned and implemented a successful Basketball Free Throw Competition recently.
---
December 2017

David Wood

Brother David Wood finally joined our Order in December but has been a supporter of the Knights of Columbus in many ways before that. David has been a member of the St. Anne and St. Jude Parish Community since he was a kid and since then has been active in the parish and community in many ways. Now much of his time is spent in youth ministry and cursillo.
---
November 2017

Timothy Marzano

Brother Tim Marzano was named the Knight of the Month for the month of November for taking this new program of "Building the Domestic Family" and running with it full force involving priests within our community and being involved with other council programs as often as possible all while raising three girls on his own.
---
October 2017

Edward Johnson

Brother Sir Knight Edward Johnson is our Knight of the Month for the month of October. He has been a good Worthy Recorder for his second year now in our council. Brother Johnson stands ready to help out whenever possible and never shies away from assisting a brother in need or a council program when asked.
---
September 2017

John "Jack" Hemming

Brother Jack Hemming has been very active since joining the Knights of Columbus last year. He helps out wherever he can and there is never a job too small that Jack won't undertake. He has been Inside Guard this Fraternal Year and takes his responsibilities very seriously.
---
August 2017

Christopher Harvey

The Knight of the Month for the month of August is our worthy DGK Christopher Harvey. Chris is a leader in every sense of the word and has provided the Grand Knight with great counsel for over a year now. Chris took on a lot of the work in the kitchen for the 2nd and 3rd Degrees on August 26th and really helped make this a huge success.
---
July 2017

John Owen

SK John Owen was named the Knight of the Month for the month of July because of his involvement in the parish community. He has been very active in recent months helping out with things that needed to be fixed over at the St. Jude location and has gone above and beyond as a knight to get things done.
---
June 2017

Calvin Glisson

Calvin planned, lead and implemented this year's successful Italian Dinner on June 10th to raise funds for our seminarians in our Vocations Program. Great Job Calvin!
---
December 2016

Ted Trapini

Brother Trapini was named Knight of the Month for his tireless efforts with vocations and the work he does in the nursing home and VA hospital.
---
August 2016

Paul Burchell

SK Paul Burchell, SW, FDD, PGK has been an inspiration to the council since joining the KofC. Since joining he has done so much for our council. He has once again graciously taken on the role of Youth Director for our council and planned several events and fundraisers. Paul also has provided much needed counsel to our council's grand knight. Brother Paul can always be counted on.
---
July 2016

Frank Costas

Brother Frank Costas was named the Knight of the Month for July, 2016 for his outstanding leadership in the parish community and his volunteerism. Frank has taken the reins as one of the youth ministers of our parish over the past year and done an outstanding job. They have grown our youth group exponentially. They have held fundraisers, gone on awesome trips and lead youth to Christ. Frank also pitches in whenever necessary at the St. Jude location of our parish singing in the choir. Great Job Frank!
---
March 2015

Thomas Ray

SK Thomas Ray is a member of the Midlands 3rd Degree Team and on several occasions has volunteered his time as a bus driver for the Sumter Catholic Community Youth group to transport them to weekend and overnight outings.
---
February 2015

Nicholas Doyle

As a Member of the Nursing Home Visitation committee, he started the monthly rosary service and visits the infirmed, and brings the Eucharist to the residents. Nick serves as the scheduler for Special Ministers at St Anne Church. Serves as an Extraordinary Minister of Holy Communion for the Sumter Catholic Community and is a member of the St. Anne Choir. Nick attends college full time while maintaining employment.
---
January 2015

Calvin Glisson

Brother Calvin is one of the newest members of the council and has hit the ground running. He is extremely passionate about being a Knight as has been involved in every activity since joining. He has agreed to assume a leadership role in organizing the annual Italian Dinner to support the RSVP program. He has assumed the responsibility for spearheading the Free Throw Challenge and has worked diligently to try and find a location for the competition. He carried the council banner in the Stand up for Life march and rally in Columbia on Jan 10th and attended the January 22nd Right to Life march in Washington DC on Jan 22nd. He is eager to complete his 2nd and 3rd degrees and complete his 4th degree exemplification as soon as he is able.
---
December 2014

Jim St. Clair

Brother Jim St. Clair is the council's Culture-of-Life Director and has been very active in this ministry. Under his leadership, the council has established Nursing Home Visitation and Veterans Visitation ministries and has identified Chairmen for both ministries. He also arranged to have a "pro-life" billboard erected in the Sumter area in time for the Christmas holidays.
---
November 2014

SK John O. Stanley, PGK

Brother John Stanley did an outstanding job in organizing and scheduling knight to assist in selling Christmas cards and magnets at all masses during two consceutive weekends. John was also present before and after each mass to ensure coverage was provided. As a result of his leadership and efforts, the council was able to raise several hundred dollars to assist with council programs.
---
October 2014

Chris Hilditch

Outstanding job in organizing the Sumter Catholic Community Picnic. Largest ever turnout and activities were available for all age groups. Volunteered to serve as Council Adjutant when position became vacant.
---
September 2014

Chuck Berard

Excellent overall support to Cathlolic community at Shaw. Lector at daily mass as well as on weekends.
---
August 2014

Richard Winter

Countless hours spent in support of Our Lady of the Skies; filled in for Denise with emails, bulletin notices, announcements, etc. Church Director keeping track of activities at all three churches in Sumter/Shaw area.
---
July 2014

James Smith

Excellent job in organizing the Corporate Communion, Officers Installation, and dinner. Operation Hope charirperson.