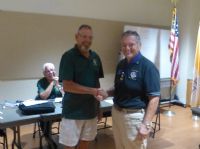 September 2019

John Manczko

John Manczko, SK, PGK, was selected as Knight of the Month for September 2019 for all his work on re-vitalizing the council website and social media accounts.
---
August 2019

James Gecsei

Jim Gecsei was selected as Knight of the Month for August 2019 for his chairmanship of the International Food Festival for the past 3 years
---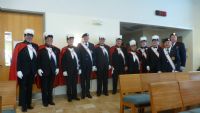 July 2019

Last Honor Guard in old regalia blank

Long time Sir Knight Larry Van Dooren's visitation and funeral Mass held Saturday, June 29 at St. Thomas the Apostle, Lenoir City. Last time wearing the old regalia uniform.
---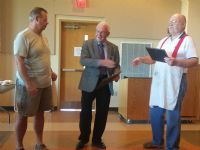 August 2016

Mark Werner and Ken DeBoer


---
July 2016

Ed Valente

For his planning and preparing the meals for the Catholic Engaged Encounter couples.
---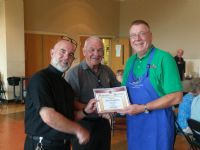 June 2016

Jerry Dougherty

For his planning and efforts in the council membership drive. The Drive succeeded in qualifying the council for the STAR Award.

---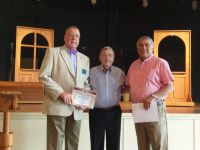 May 2016

Jerry Dougherty

KOM Jerry Dougherty on left, DGK Ray Mouse center w/ Ed Valente right
---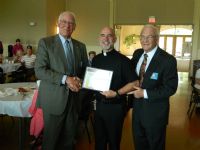 April 2016

Dan Hanley

As the only council representative in support of the Special Olympics games. The date was changed on short notice due to bad weather and no other volunteers could make the event.
---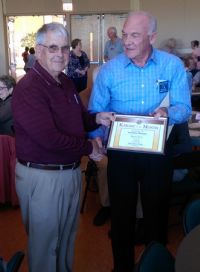 March 2016

Larry Finneran


---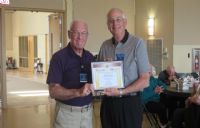 February 2016

Jim Gecsei


---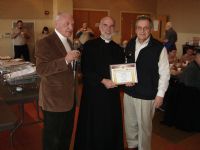 January 2016

Joe Filosi


---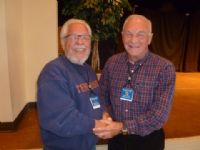 December 2015

Dennis Preston


---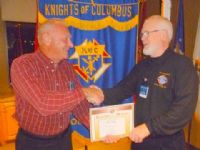 November 2015

Bill Twohig


---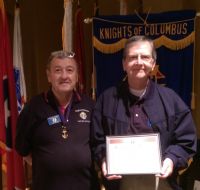 October 2015

Bill Waskelis

Outstanding editor and management of The Knights Herald Newsletter.
---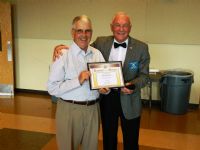 September 2015

Larry Finneran

Publicity Chairman - getting the word out to the public about our council activities.
---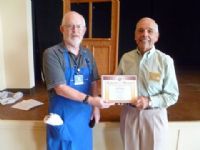 August 2015

Mario Catani

Chairman and Organizer-In-Chief of the Parish's classroom restoration project - Summer 2015.
---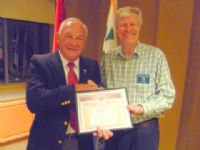 July 2015

Bo Carey

It is with great pleasure we recognize Bo Carey as our July 2015 Knight of the Month.
Bo, who was recently elected an officer in our council as Recorder, has long been involved with Parish activities. You can usually find him playing an instrument with the choir, or performing with his band at our social functions. Few people know of his unselfish and generous contributions to our fund raisers, and people in need. Bo recently showed his generosity by making it possible for us to procure a double settee for Fr. Antonio, our past Associate Pastor. Those working the project acknowledged his generosity and Fr. Antonio's pleasure when it was delivered.
Bo Carey most deserves his selection as the July 2015 Knight of the Month.

---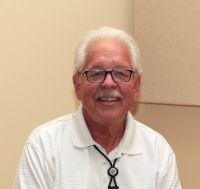 June 2015

Dennis Preston

"If you want something done, ask a busy person" is an old saying that rings true with Dennis Preston. Like the commercial of the "Eveready Bunny" this knight is always in motion. He seems to have the knack to volunteer for the tough jobs. The council received a recent request to provide support to the wife of an incapacitated brother knight. The house and grounds were in complete disrepair at a time in which she is trying to sell the house. Dennis was asked to take the lead in forming a team that would investigate and make repairs. His team comprised of approximately thirteen people which included nine knights, three non-knights and one lady. He assigned taskings as well as accomplished considerable work himself. Our brother Knight and his wife are ecstatic with the effort put forth by this team due to Dennis' leadership abilities.
It is an honor to select Dennis Preston as the Knight of the Month for June 2015.
---
June 2014

Joe Coriaci


---
May 2014

Dennis Preston


---
April 2014

David Breen

David Breen is ever present in supprt of St. Thomas the Apostle Catholic Church and the upkeep of the facilities and campus. He possesses a thorough knowledge of the Parish's electrical, water works, and structure construction. He is a tresured asset to the maintenance and well being of our church. David's involvement and knowledge, alone, has saved the Parish incomparable dollars that would have to be paid for an outside source to research, analyze, and make repairs. He has the St. Thomas "blueprint" in his head.