Pangborn Council, Assembly and LA Hall
20340 Leitersburg Pike
Hagerstown, MD 21742
Bingo every Tuesday Evening, 6:45 pm to about 9 pm.
FACILITY MANAGER: SK John Fowler


Phone:

301 739-9019

Fax:

NA

E-mail:

jkfowler@myactv.net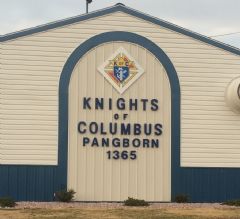 Please feel free to rent our hall for your organizations (or private) functions. Please call and leave a message at the nuber listed above or email our club manger Jon Fowler (also listed above). We also have a covered pavillion outside with power.