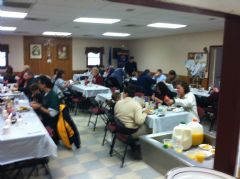 Casey Service Club holds the real property of the council. Founded in 1947, the Constitution Avenue property was purchased in 1966 and the council moved there in 1968.
Situated on five bucolic acres on Montgomery County's border with Berks County, the property features the hall and a pavillion area known as the Grove. The hall is two floors, both with handicapped entries. The Social Quarters is the ground level and is open each day to members and guests.
The hall has a kitchen and has been the scene of hundreds of family gatherings and small weddings. This is the meeting room, and where we serve our meals.
Other groups rent the hall such as unions and at one time was a Penn State satellite location.