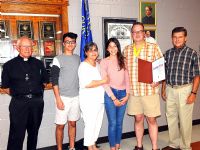 2018 - 2019

The SK Br Mark Kowalsky Family

I am very pleased to present the Family of the Year Award to the family of SK Brother Mark Kowalsky.
The Award does not necessarily have to be presented to the family of a Knight, but I don't know of another family quite frankly that is more deserving.
Brother Mark has served our Council as our Advocate for the last 2 years and was recently elected to a third term. Beyond this, he continues to co-chair our St. Patrick's dinner – dance, offers consistent and regular support at the monthly Youth Dances and continues to offer support and advice to the Grand Knight.
His wife Marina, serves as the Program Director at Our Lady of Guadalupe Home a home dedicated to the protection of life and is also one of our Council's standing committees. This is more than a full time job, and reflects greatly on Marina's strong Catholic Faith.
It does not end there, both Kowalsky children, their son Kyle a student at Assumption is an Usher and helps with the audio visual equipment on Sunday mornings. He also helps out with the grass cutting and yard cleaning at the OLGH.
Their daughter Bianca, is about to enter Assumption having graduated from Holy Cross School, and is an Altar Server. She also helps out her Mother at OLGH on weekends and whenever help is needed.
Both Kyle and Bianca consistently have shown up to work at clean up following dances, and special events hosted by our Council at our parish hall.
The Kowalsky name has become synonymous in our Parish going back many years led by the example of both SK Brother Mark and Marina and this legacy is being passed on to and by their children.
The Team of Brother Mark, Marina, Kyle and Bianca – you have done you're your family, our Knights of Columbus Council and your Parish Family here at Our Lady of Mount Carmel proud!

---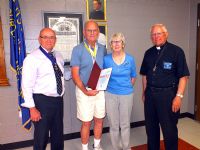 2017 - 2018

The St. Pierre Family

FAMILY OF THE YEAR 2017/18
It is my pleasure to announce that this year the "Family of The Year" goes to our Worthy Financial Secretary BARRY and his wife ANNE ST PIERRE.
ACCOLADES
Barry has been a member of our Council since 2006 and has served in the appointed capacity of Worthy Financial Secretary for 4 GKs going back to PGK Leo Parent. Barry has 100 % attendance at meetings. In his capacity as FS Barry handles business with Supreme, orders supplies for council, collects dues, oversees 2 Audits a year and keeps accurate records.
With all his years of experience on our executive Barry can be likened to a member of our esteemed Canadian Senate on Parliament Hill,… a voice of Sober Thought, often advising and mentoring us new Grand Knights as we learn our roles.
Until recently Barry was an altar server in rotation for Daily morning Mass during the week plus he serves at Funeral Masses.
Barry and Anne are Can-Do type people and are usually the first to help with anything that is going on within our Knights of Columbus council and within Mount Carmel church.
Both Barry and Anne have served in various capacities at our Fish Dinners, Council Breakfasts and Pancake/Shrove Tuesday suppers. Anne helps serve the luncheon after the Healing Masses that are held at our church. Barry and Ann are always there to help set up and clean up afterwards no matter what the event. You may remember seeing Barry manning the juice table. They like to do things as a couple which helps to explain Barry wearing a hair net and rubber gloves while helped Anne with the Mission Pie Making Group. Anne works with fabrics for the quilt maker's Guild at MC church but Barry has yet to pick up a thimble, needle and thread. I think he draws the line at hair nets and rubber gloves.
After the many, many functions in our parish hall the St Pierre's take the good leftover food to "Street Help" located on Wyandotte Street.
Often, they both help with chaperoning Youth Dances.
For several years now Barry and Anne have been taking communion to the residence at Extend-a-Care nursing home.
Barry and Anne have a very strong marriage and are a family orientated couple who possess a strong Catholic expression of our faith. For the last 3 yrs. or so they have been journeying with a faith sharing group called Why Catholic and it is not just for the great food this group indulge in after their meetings either .
A very reliable source informed me recently that for some time now Barry and Anne have been buttering up our Pastor Fr Mike Parent with coffee and donuts at Tim Hortons after Thursday morning mass. That ought to be worth a few Indulgences for sure.
Please join me in congratulating Barry and Anne St Pierre, our most worthy Family of the Year recipients for 2017/18.

Fraternally yours

SK Br Terry Bachmeier, Grand Knight

---
2017 - 2018

Clarke Family

COUNCIL 13405 FAMILY OF THE YEAR 2017

Attention: Paul Crawford, PSD, Family Program Director
It is with great pleasure that I submit our candidates from Council 13405 of District #10 Mr. and Mrs. Lorne Clarke for consideration as Ontario State "Family of The Year Award" 2017 recipients. The Clarke family truly represent Charity, Unity and Fraternity the principles of the Knights of Columbus.

Mr. Lorne and Mrs. Christine Clarke.
5676 Walker Rd. RR1
Oldcastle Ontario, NOR 1LO
519 737-0203
gemuslgc@yahoo.ca
Council Member # 4588824

Brother Lorne and his wife Christine, have been very actively involved as members of Mount Carmel Church in Windsor for over 30 years. Lorne is a member of Council 13405 and is always the first to say yes helping with anything he is asked to do, be it with regards to our many council activities or with our parish family, or the church building.

-In 1975 Lorne, following in the foot steps of his parents Lorne Sr. and Pauline Clarke started helping retired policeman Frank Chauvin to collect and delivering food, clothing, and school supplies delivering them to the warehouse in Mississauga for distribution to Northern Ontario Communities.

-Mother Teresa of Calcutta asked Fr. Francis West of the Co-Workers of Order of Mother Teresa in Canada and Dr. Simone, for help from Canada to send food to her "Missionaries of Charity" in Tanzania and Ethiopia. When Mother Teresa came to Toronto in 1986 she gave a letter of thanks and reference to Dr. Simone who founded Canadian Food for Children CFFC. Soon afterwards Mrs. Pauline Clarke (Lorne's mother) responding to an advert she saw in the "Sunday Register" got approval from her pastor to start collecting food and clothing for CFFC, launching the Clarke family on a charitable service journey that is now over 30 years and Loren directly involved for 17 years. The network of Chauvin supporters every month fill Pauline's garage with food and dry goods. In addition, several times a year Lorne goes to Detroit Mich. to load as many as 10 skids of drinks donated by The Faygo Beverage Co. Then twelve times a year Lorne drives the 24-foot cube truck making deliveries to the CFFC Toronto warehouse located at 1258 Lakeshore Rd E. Mississauga, Ontario. L5E 1E9 .
In 2016 Lorne, family and friends collected everything from bicycles to nonperishable food, sewing machines and clothing enough and medical supplies enough to fill four Sea Containers to be shipped to Fr. Stephen's Parish in Ghana.
Out of their own pockets Lorne and Christine have for all these years paid for all the care, maintenance and often gas for the old truck which includes breakdowns on the highway from time to time.
Lorne is an active supporter of Windsor Right to Life, he volunteers with the fund raiser Fish Dinner for Guadalupe Home, works the BBQ for the annual Mount Carmel Parish Family Day.
Christine, works right along side of Lorne through out the year collecting goods for CFFC and loading the truck. She is active in our parish as an user and communicant, is a strong supporter and participant in the Why Catholic program and is an exemplary role of a model of a modern Christian woman.

For Council 13405's 2016 Annual Fraternity Services survey Lorne logged 452 hours of council and community volunteer service.




References;
Fr Mike, Parent Pastor MC Church Windsor 519 962-1654
Fr Steven, Regional Pastor of a parish in Ghana
PGK, Ken and Bernice St Denis 519 966-0759
CFFC, Helen McGuire Executive Director 905 274-9239
Enwin Utilities Ltd. Windsor Water Division, Justin Pulleyblank 519 791-5548 or co-worker Jerry Chauvin.