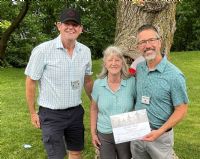 2020 - 2021

The David Darwent Family

Brother David has been a Member of the Knights of Columbus and our council since 2003. Brother David joined another council for a period of time but returned to us in 2020. Brother David attained his 3rd Degree in 2004.
Brother David is married to Lady Cheryl and they have 5 children. Their eldest child is Kylah is married and has 5 children. Meaghan is next and became a nun. Her name is Sister Elizabeth Marie of the Holy Family. Their son, Kevin is a seminarian and has 1 more year before he becomes a deacon and then is working towards becoming a priest. Next is their son, Timothy who is married with 2 children. Last but not least is their son, Peter who is married and they are expecting their first child. All in all, that's 7 grandchildren as well with one more on the way! The Darwents also fostered children for 6 and a half years.
Brother David attended St. Edith Stein Parish for many years and also went to Annunciation of Our Lord Parish for a period of time. He returned to us, attending St. Faustina Parish. Brother David has been assisting with parking control at one of the Sunday Masses during the pandemic. Brother David and Lady Cheryl are also involved in the support of families. They have been the driving force behind the Nazareth Family Apostolate for the past 20 years. Their website for the Apostolate states: "The mission of the Nazareth Family Apostolate is to discover God at work in the hidden and ordinary events of everyday family life, where we become communities of love and a hope for the world in imitation of the Holy Family."
The Darwent family epitomize a strong, devoted and faithful Catholic family. They have a strong belief in God and show their faith in all they do for their family, parish, community and our council.
Congratulations to Brother David and the Darwent family for this award. You all deserve it for your many years of service for the good of all and particularly your faith. Enjoy this recognition. Your family is such a great legacy for both of you. Our council thanks each of you and offers our best wishes in all that you do for so many!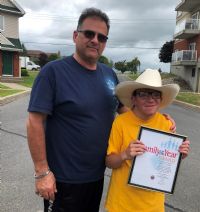 2019 - 2020

The Ouimet Family

The 2020 Family of the Year Award went to the Ouimet Family. Brother Richard took his on-line Exemplification this spring and reached full Knighthood. Richard was so impressed with the Exemplification, he told his son Christian what he had experienced. Christian decided that he also wanted to be a Knight and joined the Order and our council just a short time ago. Christian took his on-line Exemplification receiving all three of his degrees in one evening. Christian was so excited about becoming a Knight that he pinned his Knight Certificate to his wall. I personally gave him his Knights rosary, K of C lapel pin and a degree package of Knights materials. It was my honour to meet Christian and witness his excitement of being a Knight. It is a heart-warming story and the Ouimet family is very deserving of this award. I know Richard and Christian will help our council continue to be successful.
Grand Knight Pat Callaghan