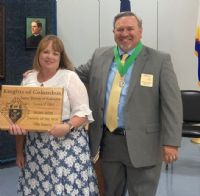 2020 - 2021

Ramon and Lisa Villa

Our family of the year exemplify the cornerstones of our order - charity, unity, fraternity, and patriotism. Our family is a family of faith who devote many hours to our church and are leaders in the parish. The parents are choir leaders, food panty workers, and lead the online monthly rosary. They are also innovative in finding new ways for parishioners to get involved in our church ministries. Their actions and selfless dedication inspire others, young and old, to get involved!

Both parents use their musical talents to plan and participate in various musical programs throughout the last 10 years. We have been blessed each week to hear the word of God through their singing, and guitar and flute music. Both have been ushers and greeters for several years and our family of the year spearheads the monthly Knights of Columbus online rosary program.

Our family of the year is a patriotic family. The father is a retired Marine, and one of his son's followed in his footsteps and is on active duty in the US Marine Corp. Their daughter served in the Army and her husband is currently on active duty in the US Army. The father served as a Scout Leader in both Boy Scouts and Venturing. He has been active in many Council community service initiatives, including Adopt-a-Highway, KOVAR Drives, supporting Special Olympics and the local Food Pantry at Church. He also spearheaded the 1st Annual Rolling with the Knights Car Show which was a huge success and raised over $5000 for the council's charities.

This family is a shining example of a loving and caring family. By putting their faith into action, they show each of us how we can help our neighbors, serve God, and reinvigorate our faith.

Please join me in congratulating our Family of the Year - Ramon and Lisa Villa.

---
2019 - 2020

Roy and Diana Blakeburn


---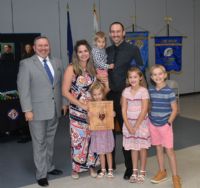 2018 - 2019

Brock and Emily Thompson

Brother Knight Brock Thompson, his spouse Emily, and their four children are the epitome of an active and committed Knights of Columbus family. Dedicated to their faith, supportive of their Parish, active in their community, and among the first to volunteer in lending a hand with any and every Council event! This Brother and his family demonstrate their unswerving commitment to the Respect of Life, both in their efforts of support to our Council's programs, as well as in their personal life.

Under his leadership this year, our Council has been blessed to be able to donate more than $1,000 and maintain our continued support of the following organizations: Hope4Life [mobile ultrasound and counseling service], Diaper Bank of Greater Hampton Roads, Catholic Charities 'Mother Teresa' Fund, and the Crisis Pregnancy Centers of Hampton Roads.

Brother Brock lives every day practicing the tenants of our Order - Charity, Unity and Fraternity. His lady walks by his side ever supportive, and they together are raising a strong, vibrant Catholic family.

We are proud to be represented by this brother knight and his family, both within our parish and our Order as our Knights of Columbus Council 2019 Family of the Year!

---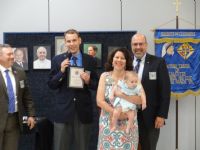 2017 - 2018

Webb family - Glenn, Joanne, and Kevin

Glenn, Joanne, and Kevin Webb are one of the most caring and dedicated families within the Council. They all revolve themselves around the parish and its community. They are servants, who always place emphasis on others less fortunate. They commit themselves to honoring God and country. A loving family, they keep Christ first in their lives. They visibly love our country as demonstrated by their leadership and support to our Gold Star families.

Glenn and Kevin are both council officers and Joanne is president of the ladies auxiliary. All have been elected to officer positions again next year. Glenn and Kevin lead and serve the Council KOVAR fundraising events and are fully engaged in all Council and church activities.

They are a shining example of the domestic church.

---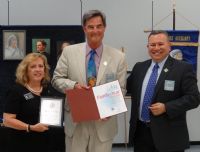 2016 - 2017

Don and Nancy Poole

On April 25lh, 2015 Brother Don Poole attended his First and Second Degree. On February 20, 2016 Brother Don attended his Third Degree. Recently Don traveled to northern Virginia and completed his Fourth Degree. During this short period as a Knight, Brother Don has been involved along with his wife Nancy in numerous events hosted by the Council. If you haven't noticed Brother Don is also the first one to start the cleanup process after our sponsored events. During the last summer concert season Brother Don and his Wife worked several events, our biggest fundraiser.

In July of 2016 Brother Don was asked by the Grand Knight to assist as a Program Chairman and, without hesitation, his response was: "Where do you need me?" Brother Don was given the responsibility of the Family program and took off running. Brother Don stepped up and stated he would also handle the "Keep Christ in Christmas" program-stating it sounds like a Family item to me. Recently the Chairman from the State Council needed a point of contact from Council 12117 to assist with the Special Olympics Fall games being held in Virginia Beach. Again, Brother Don stepped up and stated, "1 got this". When the Grand Knight need a Brother to lead the Council in the saying of the Rosary prior to the Council meetings Brother Don again stated, "I got this."

Additionally, Brother Don and his wife Nancy find the time to assist in several ministries, if not all, here at the Church of the Ascension. They are both involved in Lector and Eucharistic Ministries, both are on the Parrish Council and both conduct Eucharistic Ministry services at Our Lady of Perpetual Help as well as Sentara Nursing Center here in Virginia Beach. They are also seen assisting in the Church Choir on occasions Brother Don is also a Sacristan and usually assist in this ministry 2 to 3 times a month.

Don was nominated as this fraternal year's Chancellor, a position I am sure
he will flourish in.

It is my pleasure to present Family of the Year for 2016 - 2017 to the Poole Family - Donold and Nancy.
---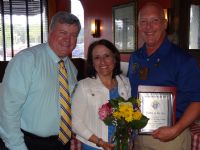 2015 - 2016

Ken and Johnna Levins

Ken and his family are actively involved with the Knights on many levels. Ken is the immediate PGK and serves as the current 3-Year Trustee. He has been a valuable mentor to the Grand Knight. Johnna is an officer with the Ladies Auxiliary for the Council and his son Ken, Jr. is a 2nd Degree Knight in the Order. They can be seen at every event that the Council sponsors and give tirelessly of their time and talent and financial support. Parish Council, Strategic Planning Committee, golf committee, Living Our Mission coordinator, special Olympics, Culture of Life chairman are a few of his many activities.
---
2014 - 2015

James and Barbara Byrd

James & Barbara represent true charity and unity in their unhesitatingly selfless response to aid others in whatever form or capacity is required. Their sense of fraternity is displayed in their individual efforts to make suggestions (and back those up with deeds) to make both our Council and Auxiliary strong and productive ministries of our church. Whether its helping produce a parish wide directory; or personally power-washing the entire sidewalk and church, and single-handedly repainting every parking space and curb; to providing personal testimony of their faith in mentoring those individuals seeking to join the Catholic Church - James and Barbara are always close at hand with open arms. Their unassuming manner and engaging personalities inspire teamwork and collaboration, and in so doing, provide the catalyst for their fellow parishioners to "Be Faith In Action!"
---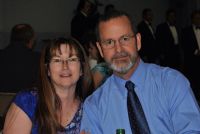 2013 - 2014

Michael & Mary Encarnacao

This family truly lives up to the principles of Charity, Unity, Fraternity and Patriotism. They are constantly looking for ways to improve the church and the council and assist with every opportunity to do so. Mike has served several officer positions and is currently the Warden. Whenever the Council needs a job done Mike is willing to take it on and get it done. Mike volunteered to be the Council Webmaster and took the lead on new council shirts. Mary is active with the Ladies Auxiliary supporting nearly all council and auxiliary events. The Encarnacao's can be seen every Sunday at the 8:45 Mass supporting several ministries. Both Mike and Mary serve as Sacristans and Eucharistic Ministers.
---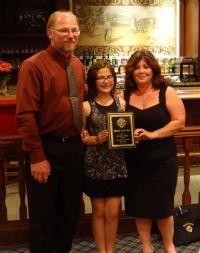 2012 - 2013

Michael and Joanne Hall