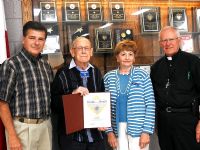 June 2019

The Brown Family

I am pleased to present the Family of the Month Award for the months of April and May to Brother Keith Brown and his wife, Denise.
The Brown family is no stranger to volunteerism and this presentation is being made not for a specific program or project, it really exemplifies and recognizes the on-going support our Council and Parish receives from them as a team!
Brother Keith and Denise work hand and hand at every breakfast, fish fry – that's a lot of hours at each of the 8 events we hold between September and April.
Brother Keith works with our Chairman (Br. Murray Harris) to ensure the support staff is in place and also tends to a number of supplemental duties such as cleaning the oven, fryer etc., following each event. This allows our Chairman to focus on food purchases, ticket sales etc, a significant relief and help.
Denise is always there in apron and hairnet, working in the kitchen, doing dishes, cleaning up or serving. They have been both doing this for years now, Brother Keith joined the Knights 12 years ago, it's remarkable that at age 87 he can keep up this pace!
Beyond this support, they are also active within the St. Vincent de Paul Society, and Brother Keith continues to volunteer on a weekly basis at St. Clair College where he once taught and is a regular at OLGH.
I know everyone will join me in congratulating Brother Keith and Denise Brown in receiving this well-deserved Award.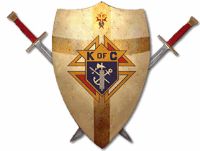 January 2019

Lorne and Christine Clark

I am pleased to present our Family of the Month Award to Lorne and Christine Clark.

Volunteerism is something certainly nothing new to the Clark family. In October we had nobody to chair our Children's Christmas Party and Lorne when asked, agreed to do so.

With the help of Christine the word got out and we had a record number of children, parents and grand parents attend this year – over 200 which almost tripled our event from last year.

There was a lot of organizing, countless phone calls, emails to be answered not to mention the extended and countless trips to the a number of stores to do the shopping needed to run this event.

There is no better place to put our time than with the children and young families of our parish community.

Lorne and Christine, for your valued and appreciated service to our Council and Parish Family, I am very pleased to present to you this small token of appreciation.