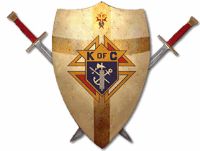 January 2019

Lorne and Christine Clark

I am pleased to present our Family of the Month Award to Lorne and Christine Clark.

Volunteerism is something certainly nothing new to the Clark family. In October we had nobody to chair our Children's Christmas Party and Lorne when asked, agreed to do so.

With the help of Christine the word got out and we had a record number of children, parents and grand parents attend this year – over 200 which almost tripled our event from last year.

There was a lot of organizing, countless phone calls, emails to be answered not to mention the extended and countless trips to the a number of stores to do the shopping needed to run this event.

There is no better place to put our time than with the children and young families of our parish community.

Lorne and Christine, for your valued and appreciated service to our Council and Parish Family, I am very pleased to present to you this small token of appreciation.