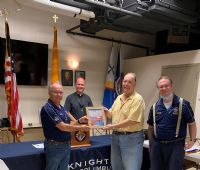 July 2020

Ocilka

The Ocilka family includes Brother George T. Ocilka, his wife Cindy and three children: SK George J. Ocilka; Jacqueline; and Richard.

Brother George T. has been a Knight since 2000 and with his wife Cindy have made great contributions to our Catholic faith, Parish and Council. As founding members of our Parish George T. was on the building committee and designed/installed the original CCTV system for Holy Trinity. He also designed our huge, very heavy, outdoor Nativity scene and led the annual assembly/diasembly. With his son, and SK George J., they ushered at the 7AM Sunday Mass each week as long as any of us can remember. SK George T. (Brother since 2000) supported just about every event from out door Christmas tree sales to fish fries and was our Outside Guard for years. While raising her Catholic family and Knights Cindy serviced the parish devotional candles around the many statues in our sactuary.

We wish and pray for the continued success of the Ocilka family as they relocate to Boiling Springs, SC where they will continue to be a model Catholic family!

Vivat Jesus!
---
December 2016

Mario Olivera and Sons

Mario joined the Knights with me 5 going on 6 years ago. We attended all of the degree ceremonies together at that time. Mario has been faithfully serving the United States Air Force. He has recently retired, and I have already a huge increase in his giving of his time to the council. Mario and his sons have faithfully come to tree sales for the last 5 years. Every year Mario brings his boys on the day after Thanksgiving to unload the truck of Christmas Trees. This year, he beat me to the truck! When I got to the Church at 8:30, Mario was already there unloading trees. Thank you Mario for your dedication to the council.
---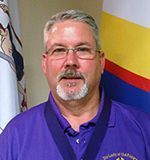 November 2016

Scott and Denise Rose

Scott and Denise came to all of the masses and sold out the Knights Christmas cards. This was a great idea to have them at all of the masses. Also, as it turns out, the cards were well received, and will become a new function for future years. We will also make the cards available in the Christmas Tree Shed.
---
October 2016

Scott and Denise Rose

Family of the Month, October 2016. Scott and Denise have been very active recruiting members at the membership table. I would also like to thank the two of them for helping to prepare 22 boxes of meals for the House of Mercy!
---
August 2016

Ed and Kathy Schulze

Ed and Kathy have been very involved in the 4th degree since Ed's Knighthood. Kathy is also on the Ladies Council of the 4th Degree. They both were a great help, and stayed late into the night working at the People's Banquet in Woodbridge. Sarah and I would like to take this opportunity to thank them for their help with the dinner. We served 150 meals!
---
July 2016

Scott and Denise Rose