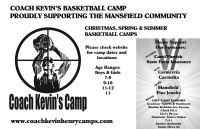 CKC Sports & Tournaments

Mansfield TX 76063 US

Phone: 817-988-6323
E-mail: Kevin_Henry@ckcsports.com
Website: www.ckcsports.com


Once again thank you for the privilege of allowing me to coach your children. Some of you have children who have participated in the Greater Arlington Texas YMCA and have played for or aganist some of my basketball and soccer teams: Bobcats, Cougars, Skittes, Skittles Too (Basketball) and SOL, Gummiebears, and Roadrunners (Soccer) . Many residents from both Arlington and Mansfield Texas participated in the initial summer basketball camp held at the Mansfield Activities Center. I would like to invite yall to join us again for another fun filled basketball experience during the Christmas Break.