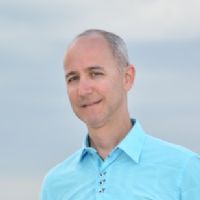 Go forth, from this world, Brother Sir Knight, in the name of God the almighty Father, who created you, in the name of Jesus Christ, Son of the Living God who suffered for you, in the name of the Holy Spirit, who was poured out upon you, go forth, faithful Christian. May you live in peace this day, may your home be with God, with Mary, the virgin Mother of God, with Joseph, and all the angels and saints. Amen

Mark L. Bancroft, D.D.S., 46, of Aurora entered into eternal life on July 22, 2017. He was born on September 18, 1970 in Joliet, IL the son of Darrel and Julie (Daub) Bancroft. In 1988 he graduated from West Aurora High School, attended Waubonsee Community College, and in 1994 he graduated with honors from The University of Illinois at Chicago College of Dentistry. On June 18, 1994 he married the love of his life, Cindy Binegar, and they spent the next 23 years hand in hand.

Mark owned and operated Bancroft Family Dental in Aurora for nearly 15 years. He was passionate about his work and was genuinely interested in each of his patients. He truly strove to make his practice a family, as evidenced by the exceptional, devoted staff he spent his days with. He specialized in laser dentistry and took a great deal of pride in instructing and teaching others the skill.

Mark was a devout Catholic and a man of deep faith who lived that faith openly. He was an active lifelong parishioner of Holy Angels Catholic Church where he was a 4th Degree Knight of Columbus with the Cardinal Bellarmine Council 4849.

Mark embraced life and lived it to the fullest. He found much enjoyment in photography, woodworking, cooking, volunteering, traveling, and loved being near the water. He was incredibly loyal and surrounded himself with wonderful friends and family.

Above all things, Mark's greatest accomplishment is the family he created and lead. The level of joy he got from watching his children grow and follow their own passions was matched only by the effort he gave to show them what a husband and father should be. His guidance helped to form them into the amazing individuals they have become. He shared a beautiful love with his wife, something rare in this day.

He is survived by his wife, Cindy; children, Paul, Kaitlyn, and Julia Bancroft; parents, Darrel and Julie Bancroft; brother, Peter (Elizabeth) Bancroft; mother-in-law, Patricia (Richard) McKee; brothers-in-law, Robert (Bonnie) Binegar and Michael (Jennifer) Binegar; nieces and nephews, Kylie, Jenna and Lauren Bancroft, and Kyle, Kayla, Allyson and Jacob Binegar. He is also survived by dear lifelong friends, Bret (Kimberly) Cromer and John (Heather) Teter; godchildren, Hayden Cromer and Daniel Asher, as well as many aunts, uncles, cousins and friends. He is preceded in death by his paternal grandparents, Elizabeth and Albert Bancroft, maternal grandparents, Martha and Charles Daub; and one nephew, Zachary Ryan Bancroft.

Family will be receiving guests on Thursday, July 27th from 3:00 PM to 8:00 PM at Dieterle Memorial Home, 1120 S. Broadway Ave. Montgomery, IL 60538. A Chaplet of Divine Mercy will be recited at 9:00 AM on Friday, July 28th at the memorial home, with Funeral Mass to follow at 10:30 AM at Holy Angels Catholic Church, Aurora, IL. Interment will be private. In lieu of flowers, memorial contributions can be made to the family for a memorial that will be established, or to the charity of your choice.

Mark touched the lives of so many in so many different facets. The family requests, if you have a story or favorite memory of your time with Mark, please write it down and share it with them by bringing it to the visitation or funeral. This will bring much comfort in the days ahead and his legacy will continue to live on.