Friday, March 5, 2021
NEWS & ANNOUNCEMENTS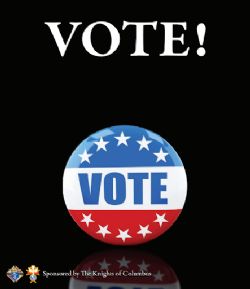 Catholic Citizenship Program

Patriotic Program Chairman: SK Mark Krautscheid
As a reminder about our duties as Catholic Citizens and strengthening Catholic Citizenship in the Diocese, we are creating a forum, with the following potential panel members, for discussion and instruction in October (date TBD).
Clergy: Bishop Weisenburger / B.E. Kicanas
Law Enforcement: Mark Napier – Pima County Sheriff (also Brother Knight)
Catholic Schools: Sheri Dahl – Superintendent
For Profit Business: Jim Click (Focus on Employment)
Non-Profit Business: Kelly Copeland (Fatima Women's Center)
Catholic Community Services: Teresa Cavendish (DO)
Other important sector(s): Military, Tribal community, State Government, etc.
Elevator Speech: "If I could inform all Catholic Citizens of something to be mindful of when voting this November, I would tell them..."
Please contact SK Mark Krautscheid to help get panel members and set up the meeting.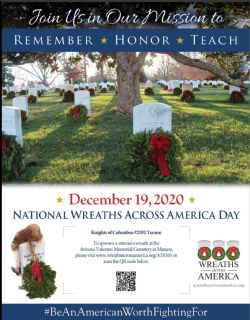 Wreaths Across America (WAA)

Download Flyer with WAA website link

Patriotic Program Chairman: SK John Alese
On Saturday, December 19, 2020 at 10:00 AM, the Knights of Columbus and its Honor Guard will be helping the Arizona Veterans Memorial Cemetery at Marana to Remember and Honor our veterans by laying Remembrance wreaths on the graves of our country's fallen heroes.
Founded in 2016, the Arizona Veterans Memorial Cemetery at Marana is the final resting place for 1,900 veterans. As of August, over 600 wreaths (about 1/3 of total interred) have been purchased.
And with WAA wreath-laying ceremonies in all 50 states, abroad and at sea, sponsors can purchase wreaths through our website for any of the over 2,100 locations.
Please see our WAA website to help us honor and remember as many fallen heroes as possible by getting sponsors for remembrance wreaths, volunteering on Wreaths Day, and inviting your family and friends to attend with you.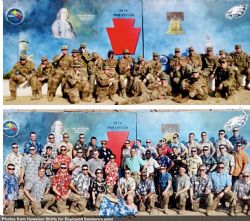 Hawaiian Shirts for Deployed Soldiers

Patriotic Program Chairman: SK Jim Hackett, PGK
Co-Chairman: SK John Mulholland, GK (10441)
It started in March 2017 with a mom, Gwen Pollard, sending a Hawaiian shirt to her son deployed from Fort Campbell, Kentucky, with the 101st Airborne Division. He came out (on an undisclosed site) in a Hawaiian shirt and the soldiers laughed. Some wished that they had one, so he asked her to send a few for him and his buddies. Gwen now has a website with the goal of shipping 100,000 shirts with a handwritten note of encouragement tucked in each shirt pocket.
Working with Gail Neer, wife of late PFN Bill Neer, we are collecting new, thrift store and gently used Hawaiian shirts. Please contact SK Mulholland to accept your donations.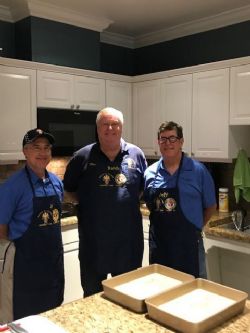 Fisher House

Patriotic Program Chairman: SK Randy Hannon, PFN
In 2016, the only Fisher House in Arizona opened on the campus of Tucson's VA Hospital to provide a place where military and veterans families can stay free of charge, while a loved one is in the hospital or any other Tucson medical facility.
Soon thereafter, under the leadership of our Faithful Navigator at that time, the now late SK Bill Neer, SKs and wives have been supporting the Fisher House by preparing meals on every 4th Wednesday of the month.
With your support, we could provide additional crews to prepare meals more than once a month.
Photo shows (left to right) top chefs SK Jim Hackett, SK Randy Hannon and SK Jeff Kennedy in the Fisher House kitchen.
Please contact SK Randy Hannon to join us in preparing meals for the Fisher House; no cooking experience needed.
Note: Due to COVID-19 concerns, program is on hold until pandemic restrictions are lifted.