Thursday, July 2, 2020
NEWS & ANNOUNCEMENTS
K of C Uniforms News Letter

Download the K of C Supply Room Newsletter

Fourth Degree uniforms may be ordered at www.kofcuniform.com which is operated by the Supply Room. They have published an informative news letter which you can read by clicking on the link above.
Annual Survey of Fraternal Activity

Download the Individual Worksheet

Each year we file a report with the home office on our fraternal activity including financial donations and volunteer service hours. This information is aggregated and reported to the I.R.S. which is required to maintain the non-profit status of the Knights of Columbus.
In order to report the hours of service, we need your help. Attached is an individual worksheet which you can print our, fill in and return to us at a meeting, scan it and attach it to an email to SKPETER@COX.NET.
You should report all hours of volunteer service. It does not have to be a Knights activity. For example you can include under Faith hours spent as a Lector or Eucharistic Minister (do not report hours for which you were paid however).
Forms

Forms may be found by clicking on the Name below
Expense Reimbursement Form - Excel
Expense Reimbursement Form - PDF
Chalice Designation Form - Fillable PDF
Chalice Designation Form - PDF Non-Fillable
Pay Dues

MEMBERS ONLY
We use PayPal for secure credit card processing. Click the image to learn more about PayPal
Pay Dues On Line
Members of the Msgr. James T. Weber Assembly #2152 may pay their dues on line using PayPal. A small charge is added to cover the PayPal fees charged to the Assembly.
To pay your dues, select the number of years from the drop down list, then click on the "Pay Now" button. This will take you to PayPal's site where you can complete your transaction using a credit card or PayPal account if you have one (a PayPal account is not required).
Donations

You can make donations to the Chalice Fund, the Veterans Fund or just a general donation. Click the Donate button below, select your option and amount then complete the transaction on PayPal's web site.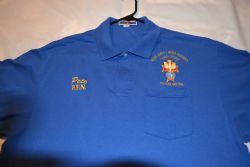 Order Assembly Shirts and Jaclets

Download the printable order form

Order assembly shirts and jackets
To order assembly shirts or jackets, you can submit your order to the assembly and pay using your credit card with PayPal. Your order will be submitted to the assembly Faithful Comptroller who will order your items and deliver them at the next Assembly meeing.
If you prefer, you can download an order form, fill it out and either bring it with your payment in full (cash or check payable to K of C Weber Assembly 2152) to the next meeting or you can bring the form to Embroidery For All Reasons and pick it up when ready.
Download the printable order form.
Item
Purchase
Assembly Shirt, short sleeve

Royal Blue
Sizes S - 4XL
Assembly name and Emblem of the order above pocket
Optional name/title embroidered on front
Reimbursements Request Form

Download this form to request a vouncher payment.
Expense Reimbursement Form - PDF

Chalice Designation Form

Download the Chalice Designation Form - PDF Fillable version

Chalice Designation Form - PDF Non-Fillable

Download Assembly Sign-in Form

Columbus Park Flag Dedication

Downlad the Announcement Memos

In 1992, the Knights of Columbus asked the City of Tucson to name a park after Christopher Columbus in honor of the 500th anniversary of his voyages to the new world.
You can download copies of the memos here.
Columbus Park Flag Program Book

On October 12, 1991, the Knights of Columbus Tucson Chapter conducted a Flag Raising Ceremony as part of the Quincentennial Celebration of Columbus's voyage to the New World.
You can download a copy of the program book here.
Msgr. James T. Weber

Download the Newspapter Notices

This article provides copies of the newspaper notices of the death of Msgr. James T. Weber, courtesy ot the Diocese of Tucson Archives.