Tuesday, September 28, 2021
NEWS & ANNOUNCEMENTS
Purchase Veterans Benefit Dinner Tickets

Our annual Veterans Benefit Dinner will take place on Saturday November 6, 2021. You can purchase tickets here using a credit card and check in at the door. Fill in the name of the buyer for check in at the door (one name per order), then click the Add to Cart Button. Then on the PayPal checkout page, adjust the ticket quantity, then proceed to PayPal checkout. You do not need a PayPal account - just choose Checkout Pay Without A PayPal account. You will receive an email confirmation from PayPal. Note: If you click on "continue shopping", PayPal will take you to the UKnight page. If that happens, just click your browser's back button to return here.
John Reddin Province Newsletter

Click here to download the John H Reddin Province Newsletter

The John H Reddin Province Newsletter is available to download and read here
K of C Uniforms News Letter

Download the K of C Supply Room Newsletter

Fourth Degree uniforms may be ordered at www.kofcuniform.com which is operated by the Supply Room. They have published an informative news letter which you can read by clicking on the link above.
Forms

Forms may be found by clicking on the Name below
Expense Reimbursement Form - Excel
Expense Reimbursement Form - PDF
Chalice Designation Form - Fillable PDF
Chalice Designation Form - PDF Non-Fillable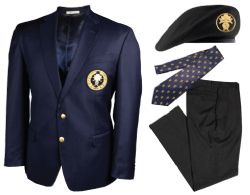 The official uniform of the Fourth Degree is now available for a reduced price in the U.S. The new cost is $449, a reduction of $61. This covers blazer, trousers, tie and beret. Visit http://www.kofcuniform.com.
Swords, sword baldrics and gloves may be ordered from the English Company at http://www.kofcsupplies.com.
Preparing Your Beret

Download instruction for preparing your beret

Here is a detailed article on how to properly prepare your beret.
Pay Dues

MEMBERS ONLY
We use PayPal for secure credit card processing. Click the image to learn more about PayPal
Pay Dues On Line
Members of the Msgr. James T. Weber Assembly #2152 may pay their dues on line using PayPal. A small charge is added to cover the PayPal fees charged to the Assembly.
To pay your dues, select the number of years from the drop down list, then click on the "Pay Now" button. This will take you to PayPal's site where you can complete your transaction using a credit card or PayPal account if you have one (a PayPal account is not required).
Donations

You can make donations to the Chalice Fund, the Veterans Fund. or just a general donation. Click the Donate button below, select your option and amount then complete the transaction on PayPal's web site. You may use your PayPal account if you have one or your credit card.

-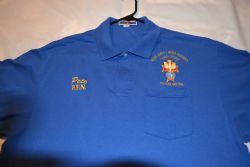 Order Assembly Shirts and Jaclets

Order assembly shirts and jackets
To order assembly shirts or jackets, you can download an order form, fill it out and bring the form to Embroidery For All Reasons and pick it up when ready.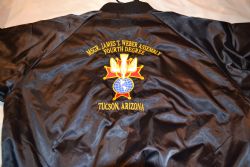 Purchase Assembly Jacket

Assembly Jacket, long sleeve
Jet Black, baseball style with snap front, elastic wrist cuffs
Cotton lined
Large embroidery on back with Assembly name and emblem of the order
Optional embroidered name/title on front
$48.00 sizes S - XXXL
Duties of Assembly Officers

Download The Duties of Assembly Officers PDF

Assembly Officers
Reimbursements Request Form

Download this form to request a vouncher payment.
Expense Reimbursement Form - PDF

Expense Reimbursement form Fillable PDF

Download the Fillable PDF version of the Expense Reimbursemet form

Chalice Designation Form

Download the Chalice Designation Form - PDF Fillable version

Chalice Designation Form - PDF Non-Fillable

Download the clothing order form

Download Assembly Sign-in Form

Columbus Park Flag Dedication

Downlad the Announcement Memos

In 1992, the Knights of Columbus asked the City of Tucson to name a park after Christopher Columbus in honor of the 500th anniversary of his voyages to the new world.
You can download copies of the memos here.
Columbus Park Flag Program Book

On October 12, 1991, the Knights of Columbus Tucson Chapter conducted a Flag Raising Ceremony as part of the Quincentennial Celebration of Columbus's voyage to the New World.
You can download a copy of the program book here.
Msgr. James T. Weber

Download the Newspapter Notices

This article provides copies of the newspaper notices of the death of Msgr. James T. Weber, courtesy ot the Diocese of Tucson Archives.