4th Degree Organization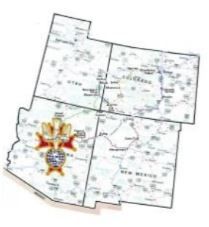 Assembly 2392 was established on June 13, 1995. It is part of the Arizona District (led by District Master Drew Mansager) which is part of the John H Reddin Province [JHRP] -- led by Vice Supreme Master (VSM) Richard Espinosa [https://kofc-az.org/patriotic-degree]
The Province is named after John H Reddin. John Reddin was born in 1858, and was the first Grand Knight from 1900 to 1903 for Denver's Council 539 -- the oldest Council in the Western part of the United States.
Not satisfied to be the "Mother Council of the West," Brother Reddin and his Degree Team headed by J.K. Mullen chartered a private train in 1901 and traveled west from Denver to Leadville to Salt Lake City, Los Angeles and San Francisco and up the coast to Seattle and Tacoma, Washington, and back down the Pacific Coast as far south as Mexico City, and then back to Denver, through New Mexico and Arizona, founding councils all along the route. This Degree Team became known as the foremost Ceremonial Team in the country.
In 1903, Reddin became the founder of and composed the Ritual for the Fourth Degree of the Knights of Columbus, the patriotic degree of the Knights, continuing as the Supreme Master of the Fourth Degree until his passing on December 30, 1940.
Assembly Namesake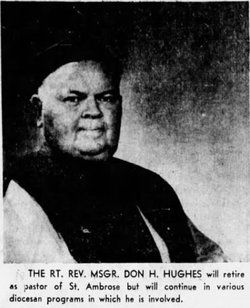 Assembly 2392 is named after Msgr. Don H. Hughes. Monsignor Hughes was born on Nov 17, 1905 in Greenwood County, Kansas, and was ordained a Catholic priest by Archbishop Daniel Gercke at San Augustin Cathedral on Easter Sunday of 1936. He served at parishes in Nogales, Globe and Douglas, and in 1941 he was named pastor of All Saints parish. He was the founding pastor of St. Ambrose Church in 1946, where he led as pastor for 21 years until retiring as pastor emeritus in 1967.
From his obituary in the Arizona Daily Star following his passing on Sept. 14, 1994 and burial at the Holy Hope Catholic Cemetery in Tucson:
"Msgr. Hughes was the founding pastor of St. Ambrose Church and was active in many other projects in the Diocese of Tucson and with the Catholic Church in the U.S. He was a founding member of the Catholic Foundation for the Diocese of Tucson and a founding member of the Serra International Club of Tucson and the club's former chaplain."